1935 Ford Coupe 5-Window Model 48
Locally Owned And Fully Restored Resto-Mod '35 Coupe 5-Window Built For Every Day Driving!
$34,995
Plus Taxes & Licensing
Here's your chance to own a piece of American History! Locally owned and fully restored! This is the perfect everyday driver that you can take cross country or to your local Cars & Coffee. The 1935 Ford 5-Window Coupe comes with an upgraded TPI (Tuned Port Injection) 350 V8 paired with a 4-speed automatic transmission. Upgrades include power front disc brakes, Mustang II Power Steering rack & pinion, cruise control, tilt wheel, front bucket seats with slide/tilt function, grant steering wheel, rebuilt Ford 9-inch rear end with 3.00 gear ratio, auto meter gauges showing VOLTS, WATER, MPH, FUEL, & OIL,  vintage air, Pioneer FM/CD head unit with XM radio module, backup camera, and much more. Way too many items to list so make sure to look through all the receipts in the gallery. Finished in Light Ice Blue Metallic with a blue interior. Classic Car Financing & Worldwide Transport available. This '35 five-window coupe is offered with a clean California title and all restoration receipts of work performed! ***All Steel EXCEPT for the rear trunk lid which has been replaced.***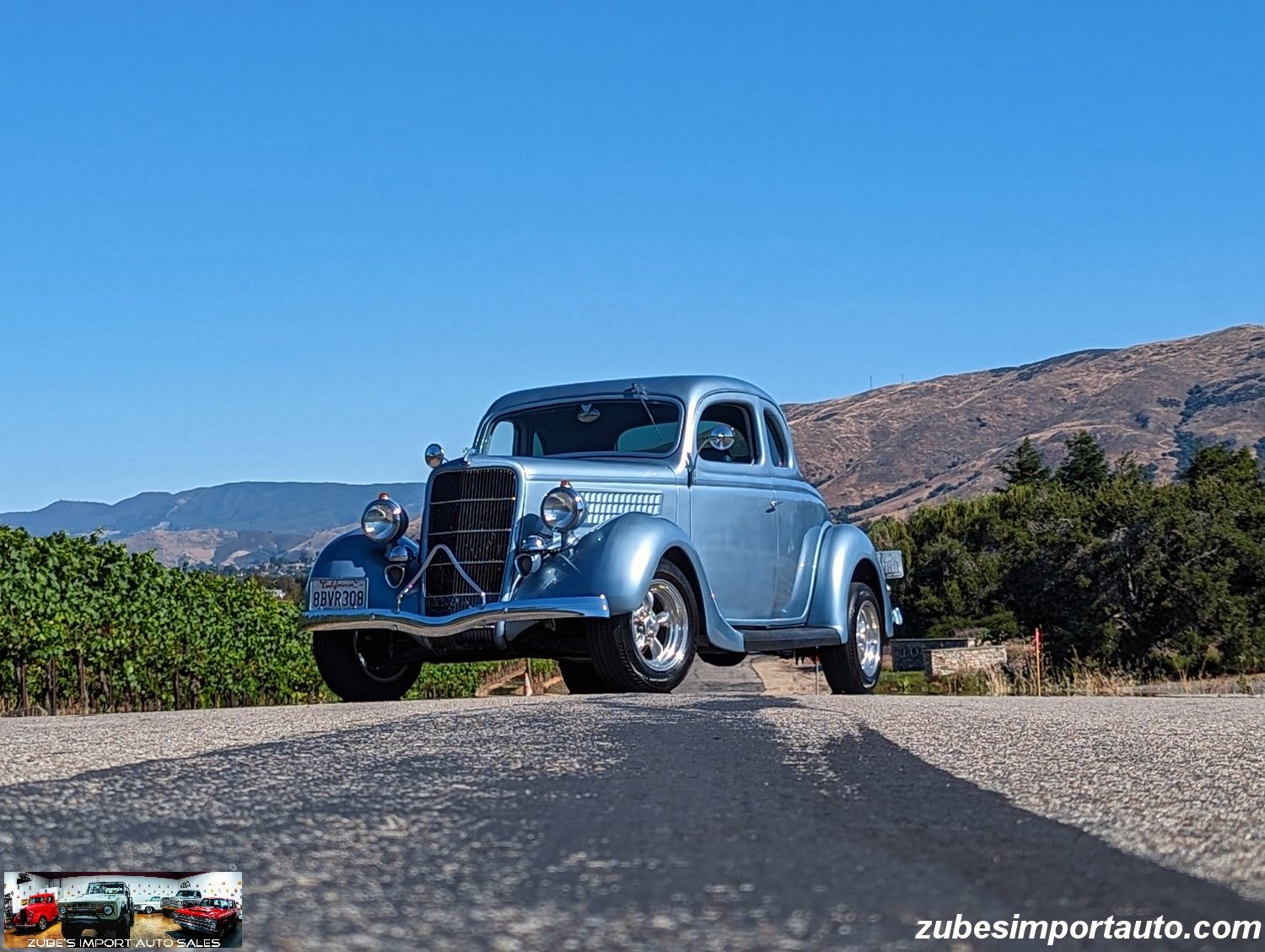 SLO'S BEST CLASSICS & HOT RODS SINCE 2009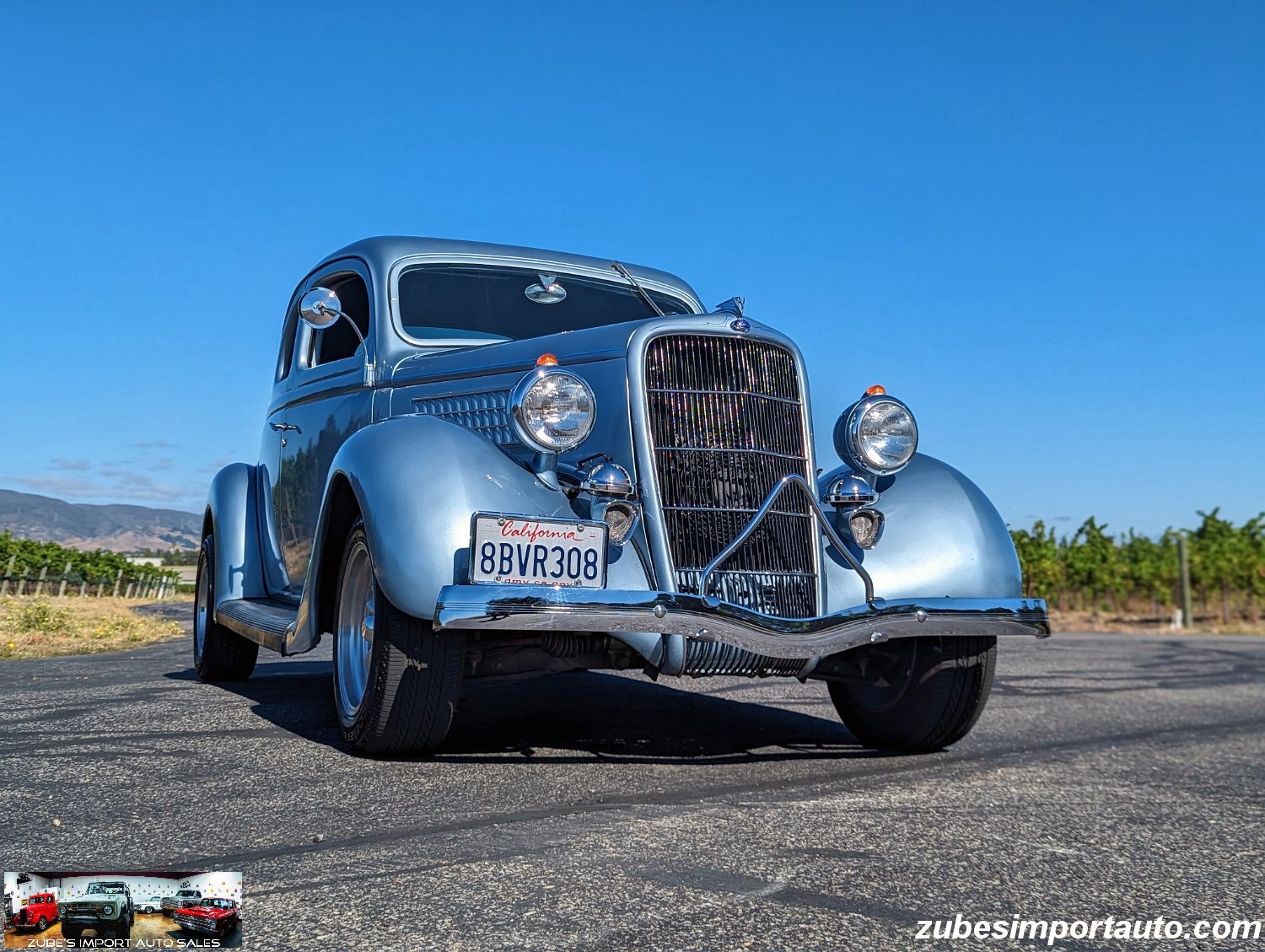 Essentials:
Powerful Engine: Features a 1987 IROC Tuned Port Injection 350 V8 engine renowned for its performance.
High Performance: The engine boasts impressive horsepower and torque, delivering exhilarating acceleration.
Transmission: Paired with a four-speed automatic transmission for seamless gear transitions.
Engine Rebuild: Comprehensive overhaul, including main bearings, camshaft bearings, connecting rod bearings, oil pump, piston rings, and more.
Enhanced Transmission: Upgraded with torque converter rebuild kit, Corvette servo, and shift kit for improved responsiveness.
Interior: Interior was redone with modern front bucket seats for added comfort and style.
Modern Comforts: Equipped with power steering, power brakes, cruise control, and vintage air conditioning.
Entertainment: Features AM/FM/CD with SiriusXM radio and a convenient backup camera.
Exterior: Refinished in a light ice blue metallic adding to the appeal of the classic 1935 Ford 5-window coupe design.
Customized Appearance: Adorned with American Racing wheels for a personalized touch.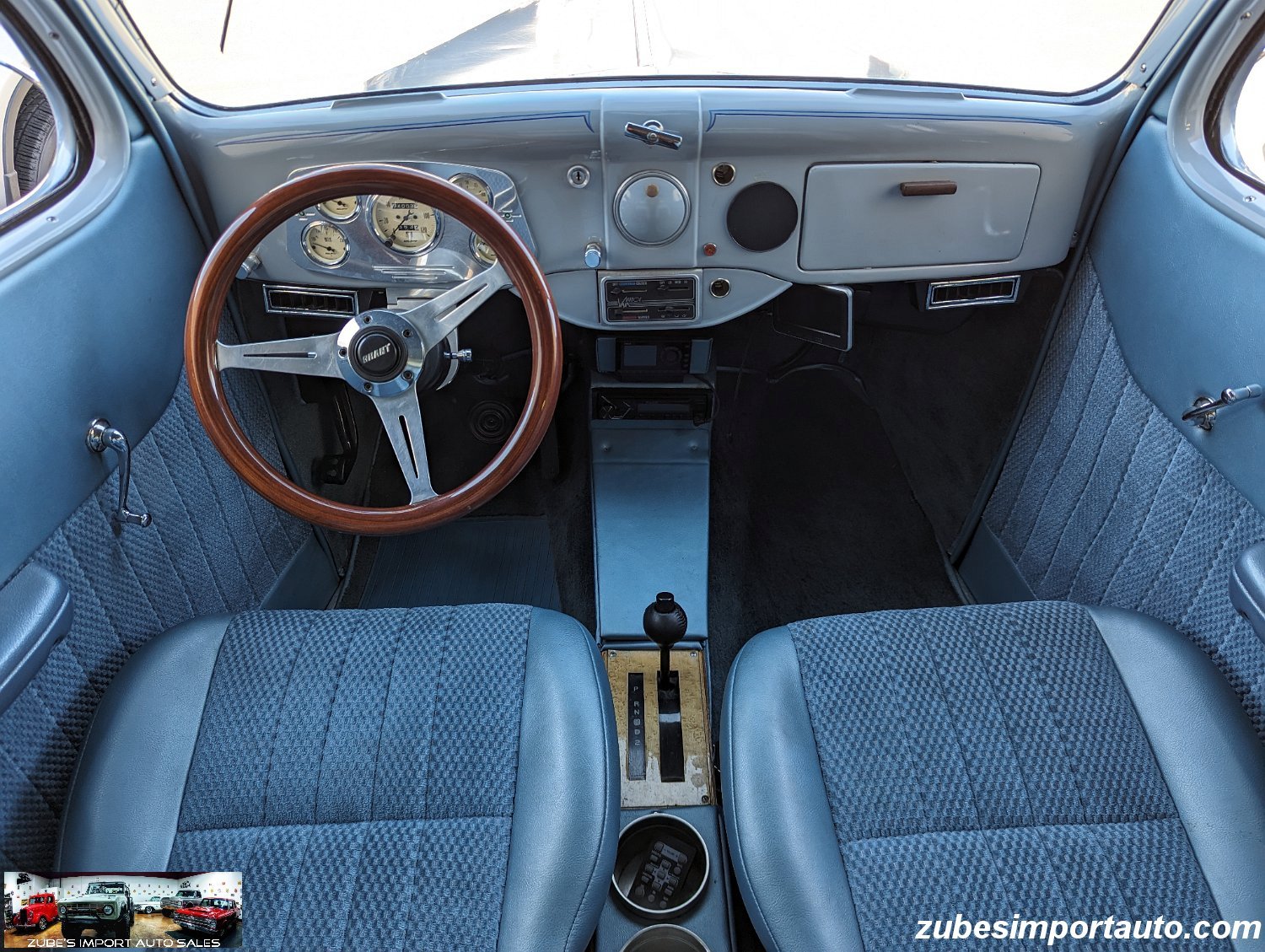 Brief History of the 1935 Ford Coupe 5-Window: The 1935 Ford Coupe 5-Window is a revered relic from the pre-war automobile era. It belongs to Ford's Model 48 series, embodying the transition from the boxy Model A to the sleek, streamlined aesthetics of the 1930s. The "5-Window" moniker refers to the side configuration, comprising two side windows, two-quarter windows, and a rear window.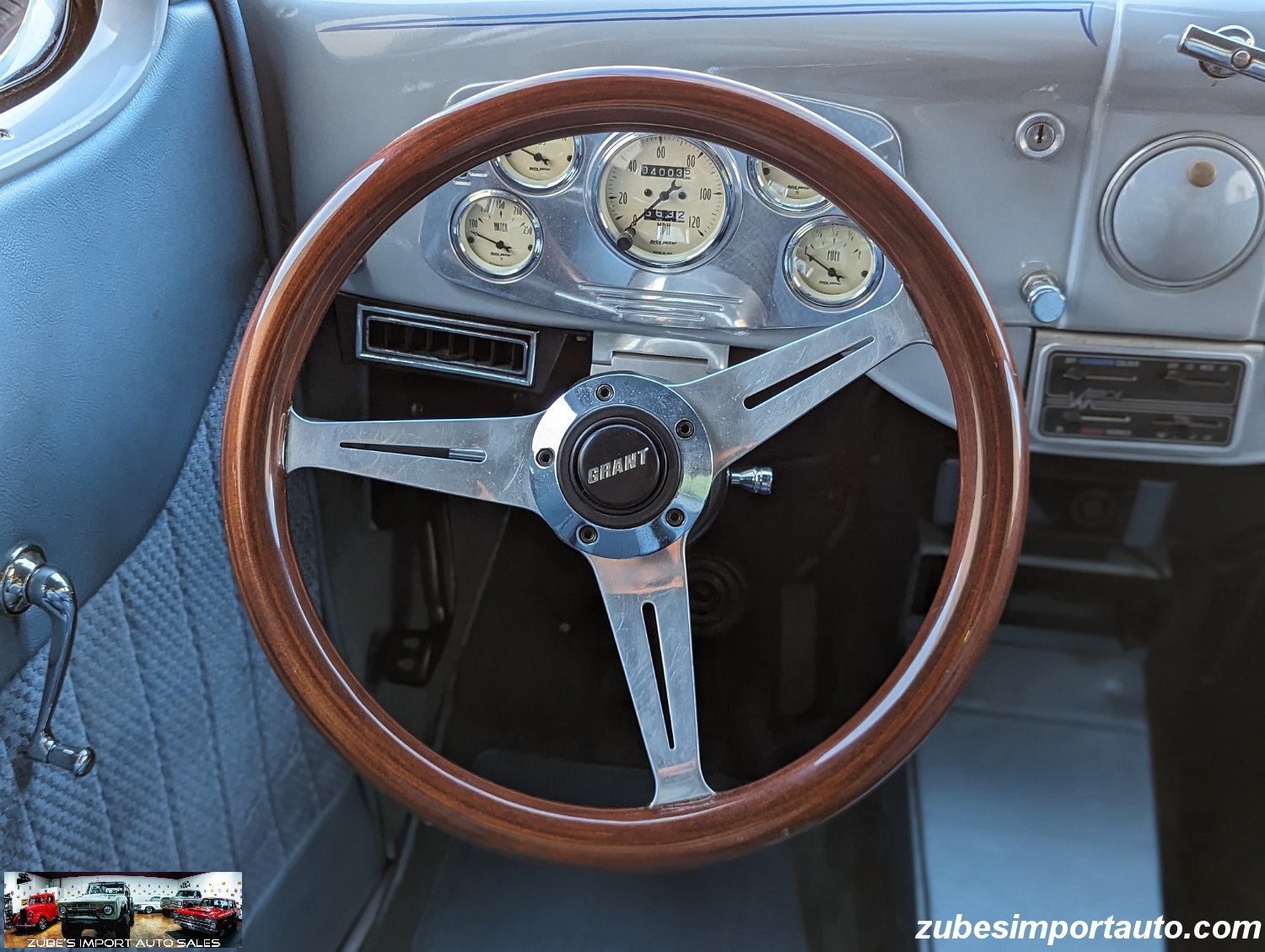 Amid the 1930s automotive transformation, the 1935 Ford Coupe emerged with its graceful curves, rounded fenders, and aerodynamic contours. This design shift catered to evolving consumer preferences, embracing both visual allure and practicality.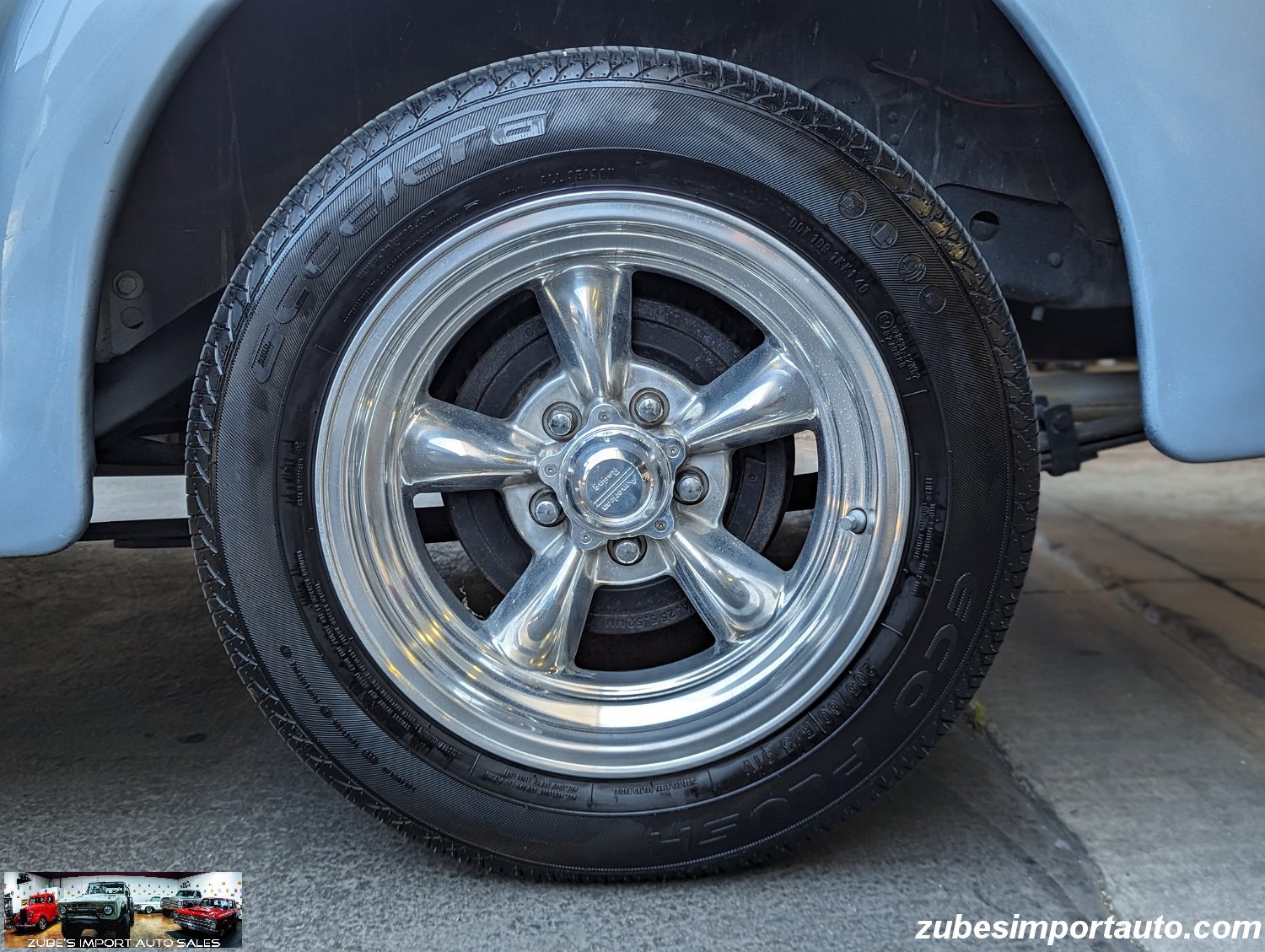 The model offered an array of engine options, with a V8 engine leading the charge. This marked a significant departure from Model A's four-cylinder powerplants, elevating performance and potency.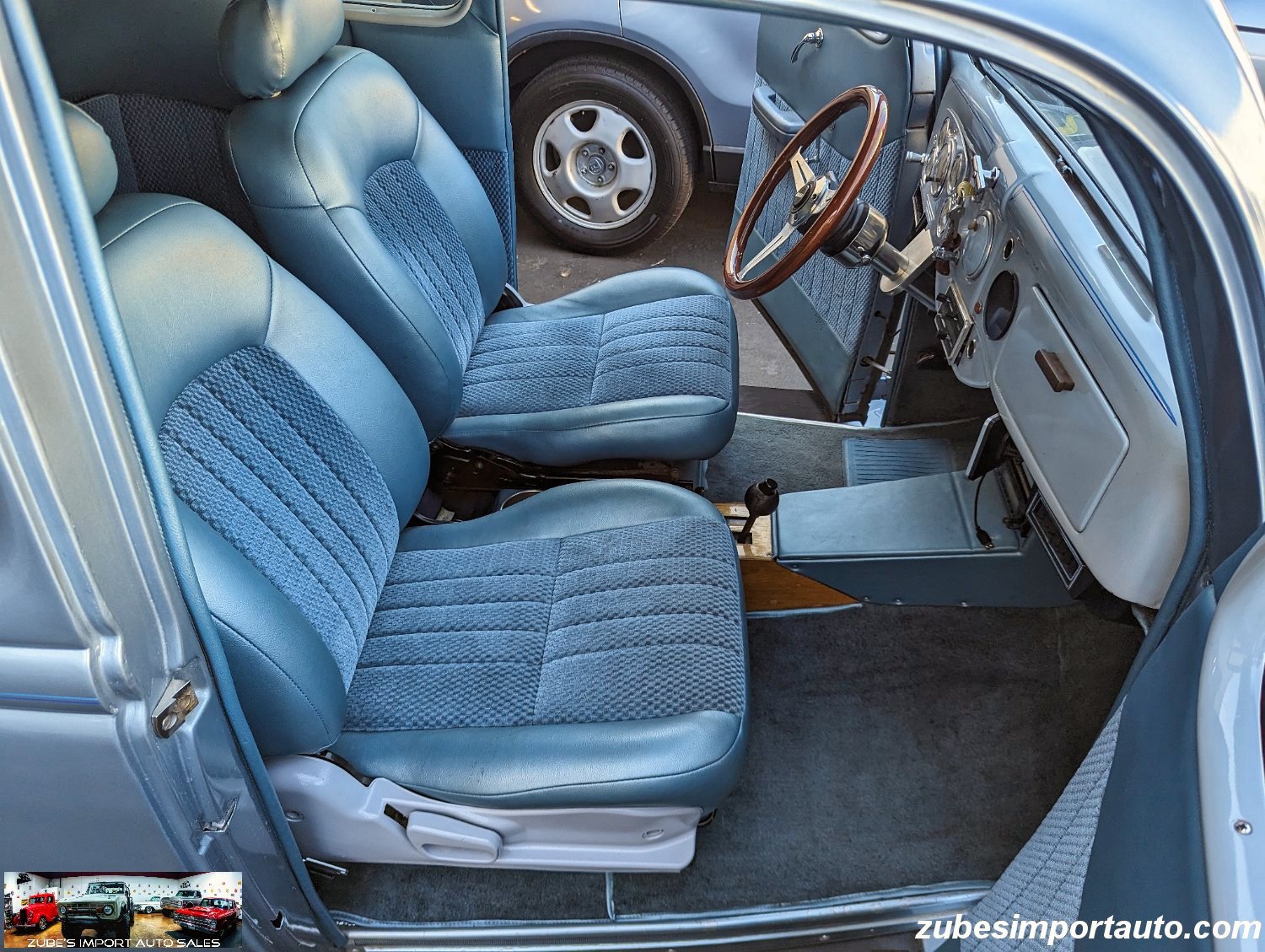 Upgraded with a 1987 IROC Tuned Port Injection 350 V8 engine that cranks out 225 horsepower and 330 lb-ft of torque, the engine provides exhilarating acceleration and on-road dominance.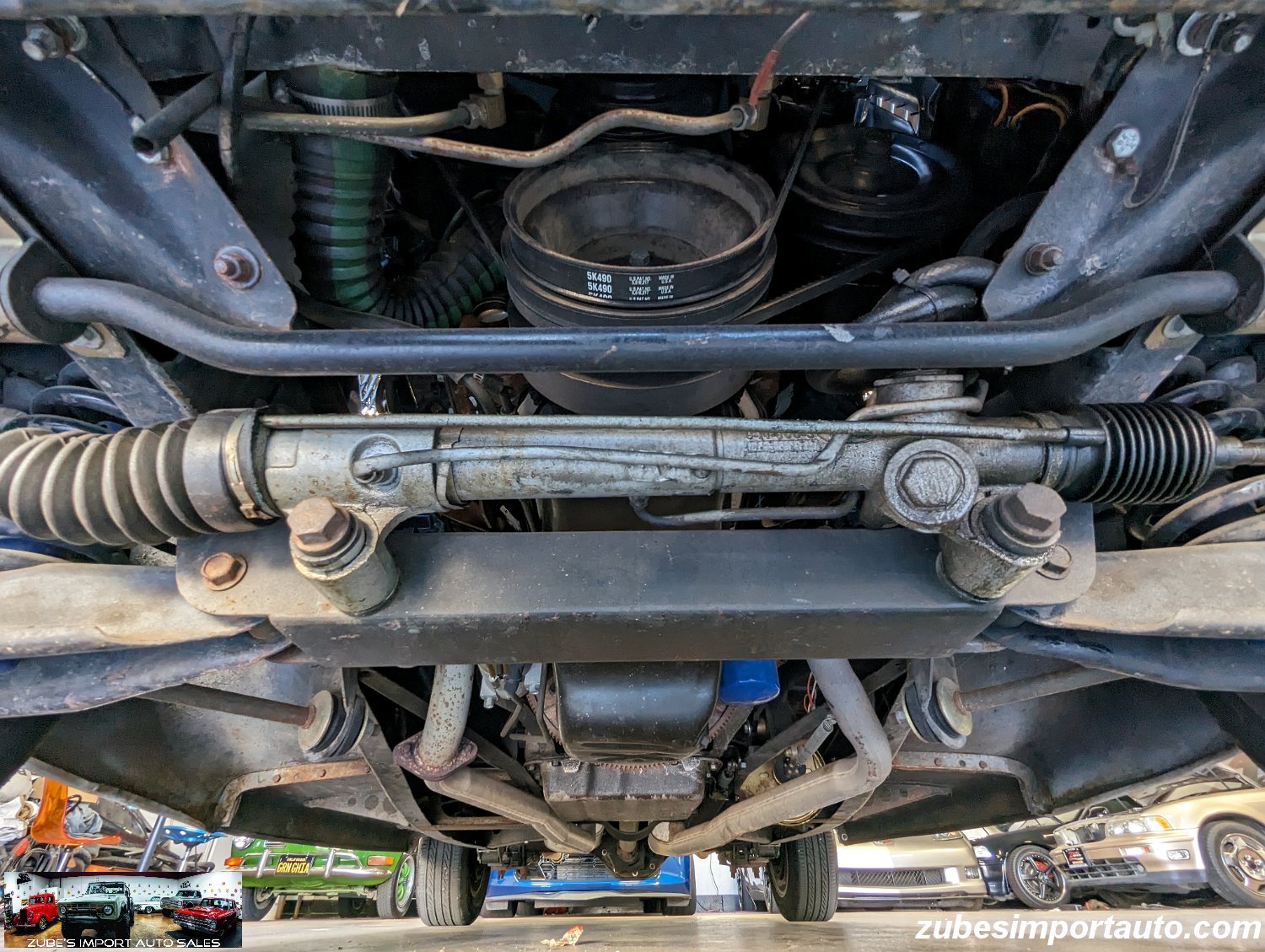 The IROC TPI 350 V8 engine is celebrated for its advanced design. Incorporating Tuned Port Injection (TPI), a groundbreaking fuel injection system, it optimizes air-fuel mixture delivery for enhanced combustion efficiency, translating to spirited performance and reduced emissions.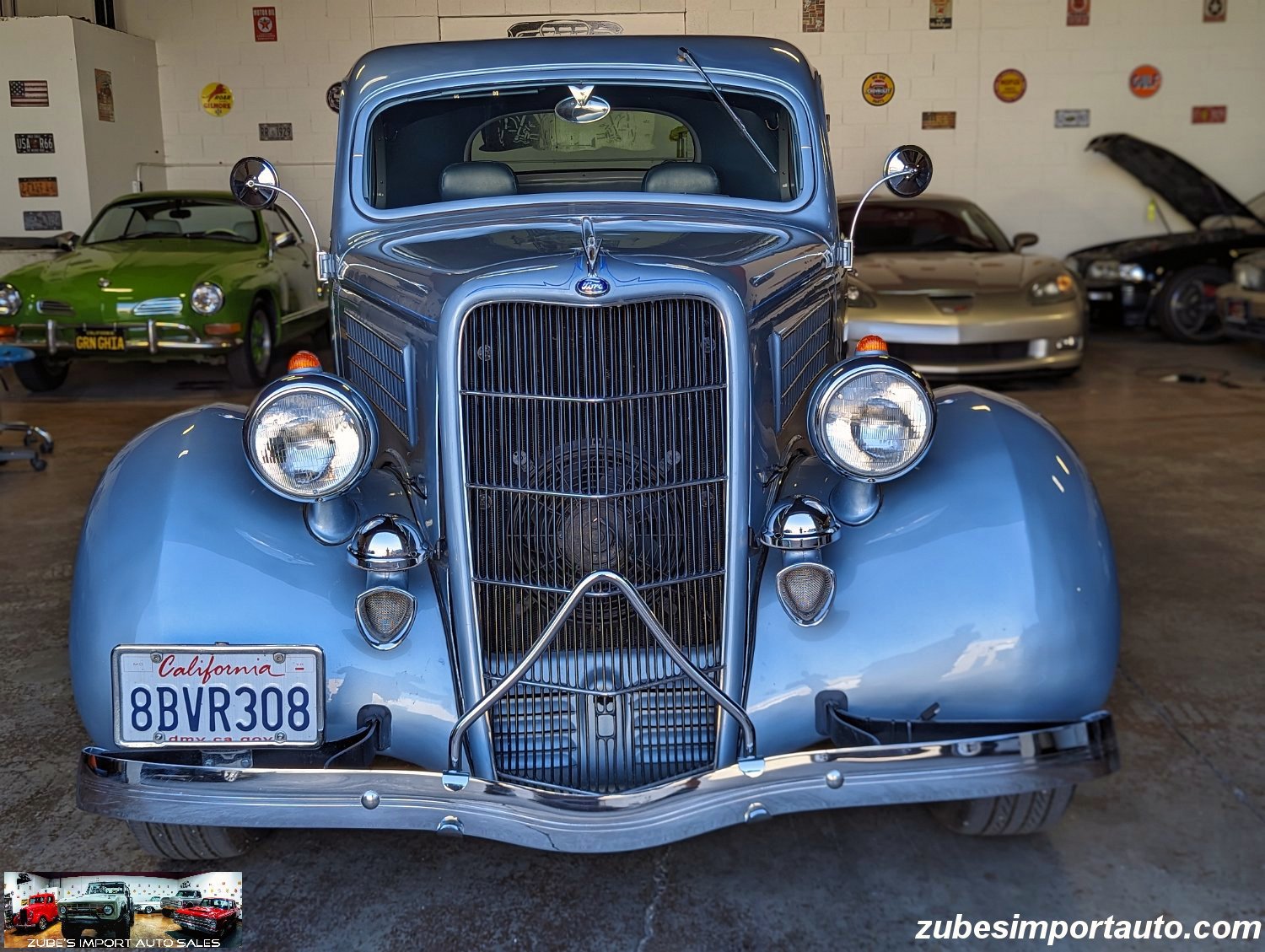 The pairing of the four-speed automatic transmission ensures smooth gear shifts, contributing to a harmonious driving experience. The comprehensive engine rebuild further elevates performance, with renewed main and camshaft bearings, connecting rod bearings, oil pump, piston rings, and other crucial components.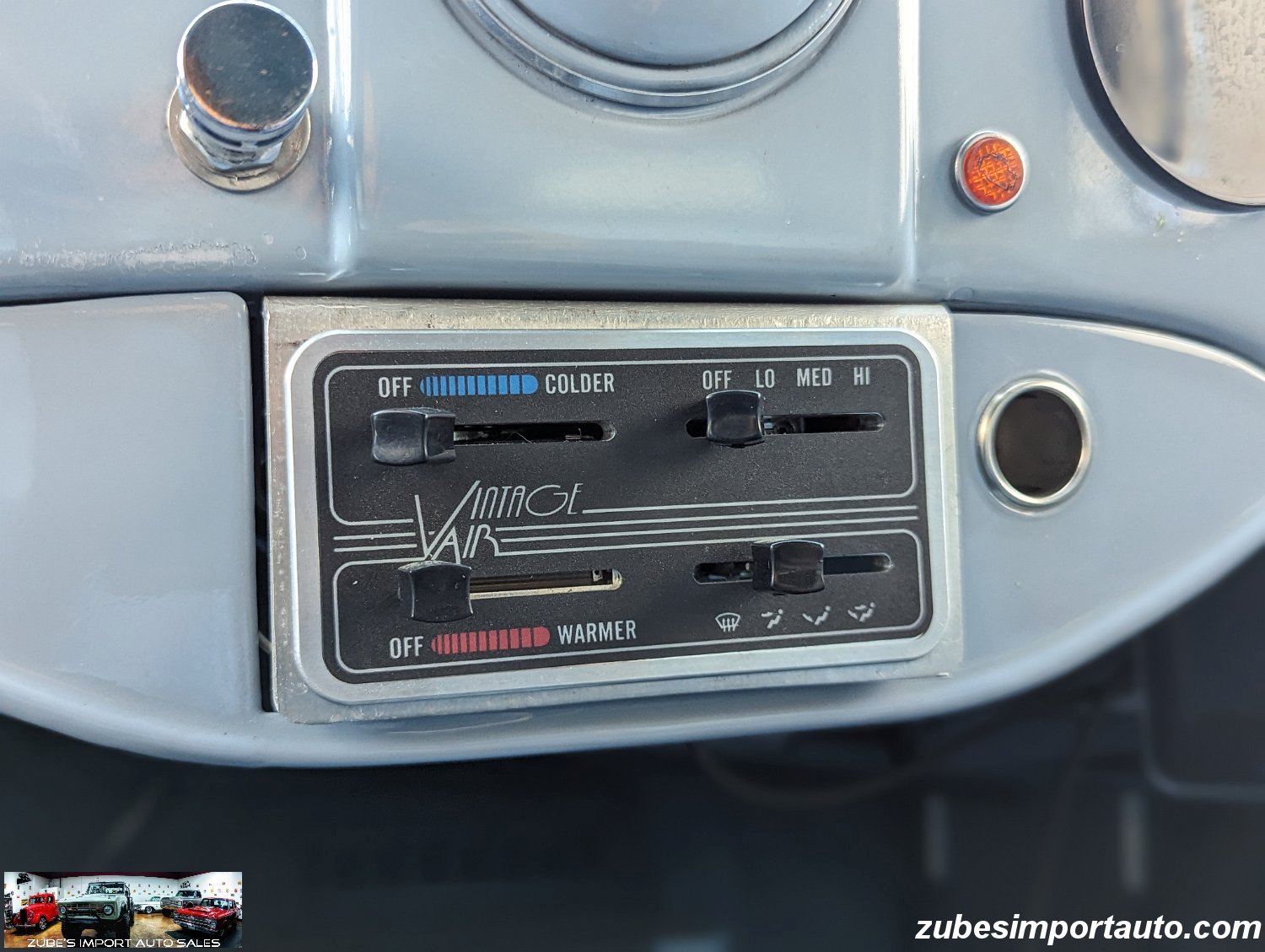 This synergy of power and precision extends to the transmission upgrades. The torque converter rebuild kit, Corvette servo, and shift kit collectively enhance responsiveness and control, redefining the driving dynamics.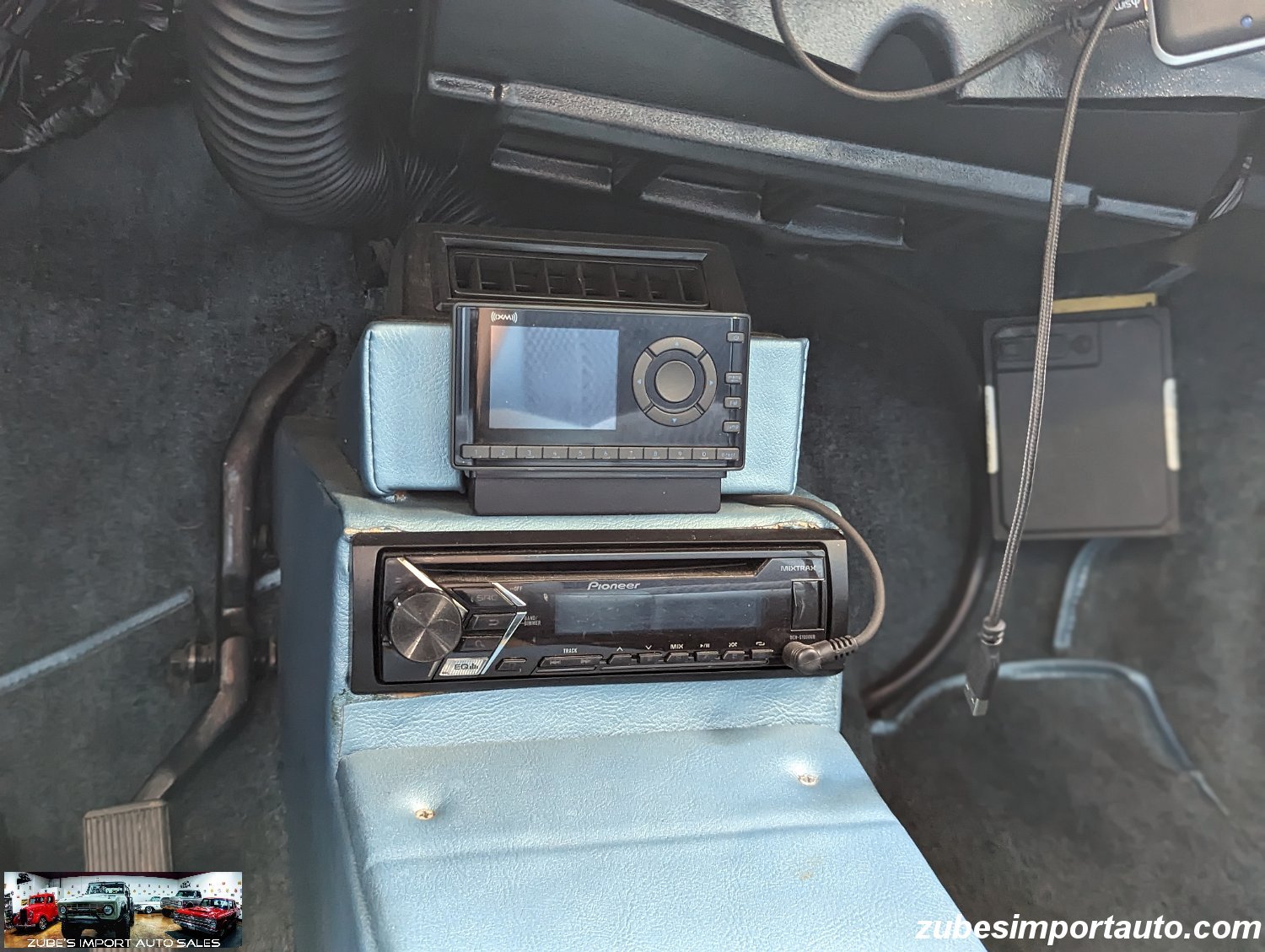 Amidst its performance prowess, the 1935 Ford Coupe's interior boasts contemporary front bucket seats, harmonizing comfort and nostalgia. The integration of power steering, power brakes, cruise control, and vintage air conditioning underscores modern convenience within a vintage shell.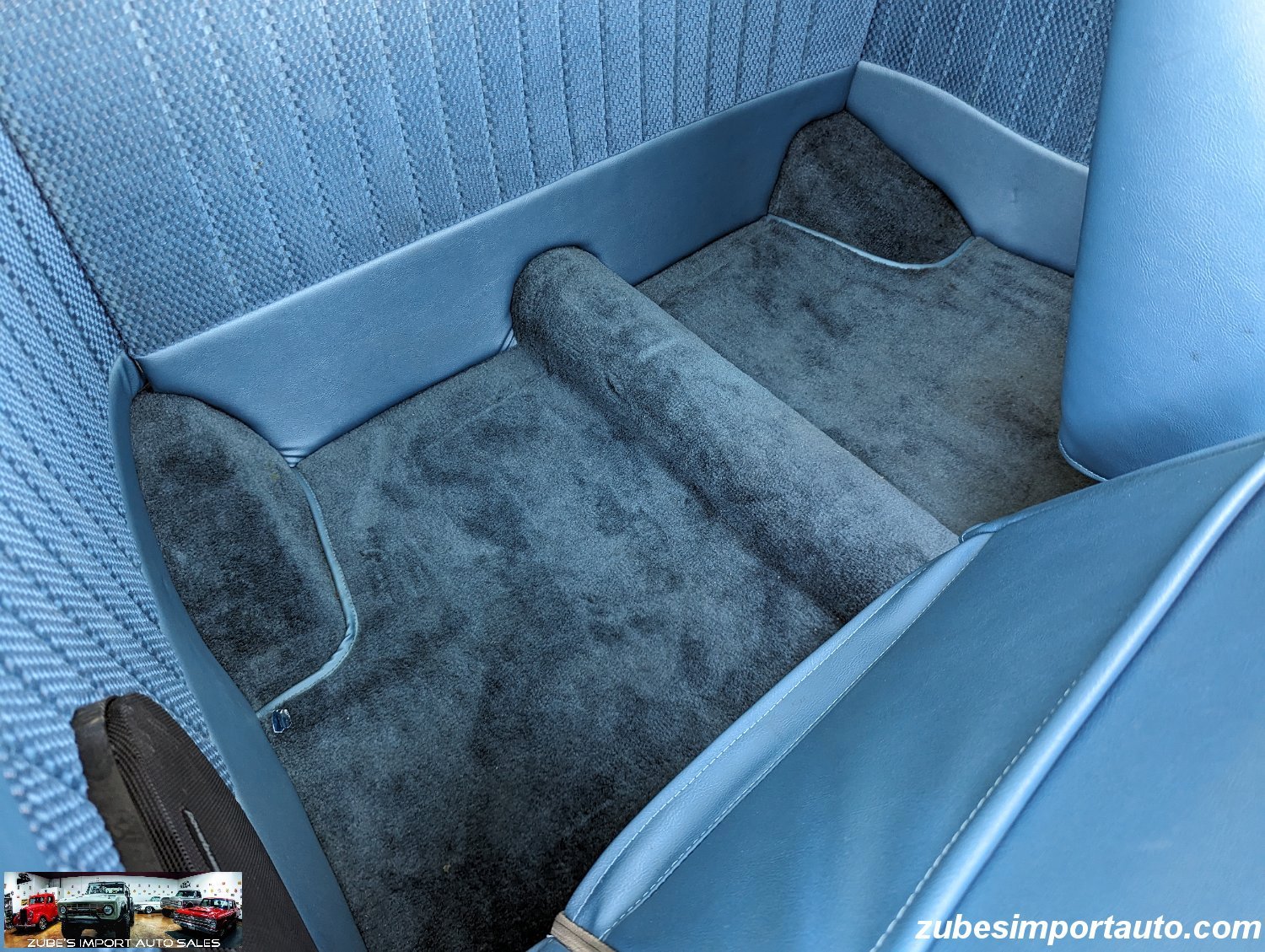 Entertainment and technology are equally prioritized. The Pioneer AM/FM/CD system with SiriusXM radio caters to auditory preferences, while the backup camera adds a layer of practicality to the driving experience.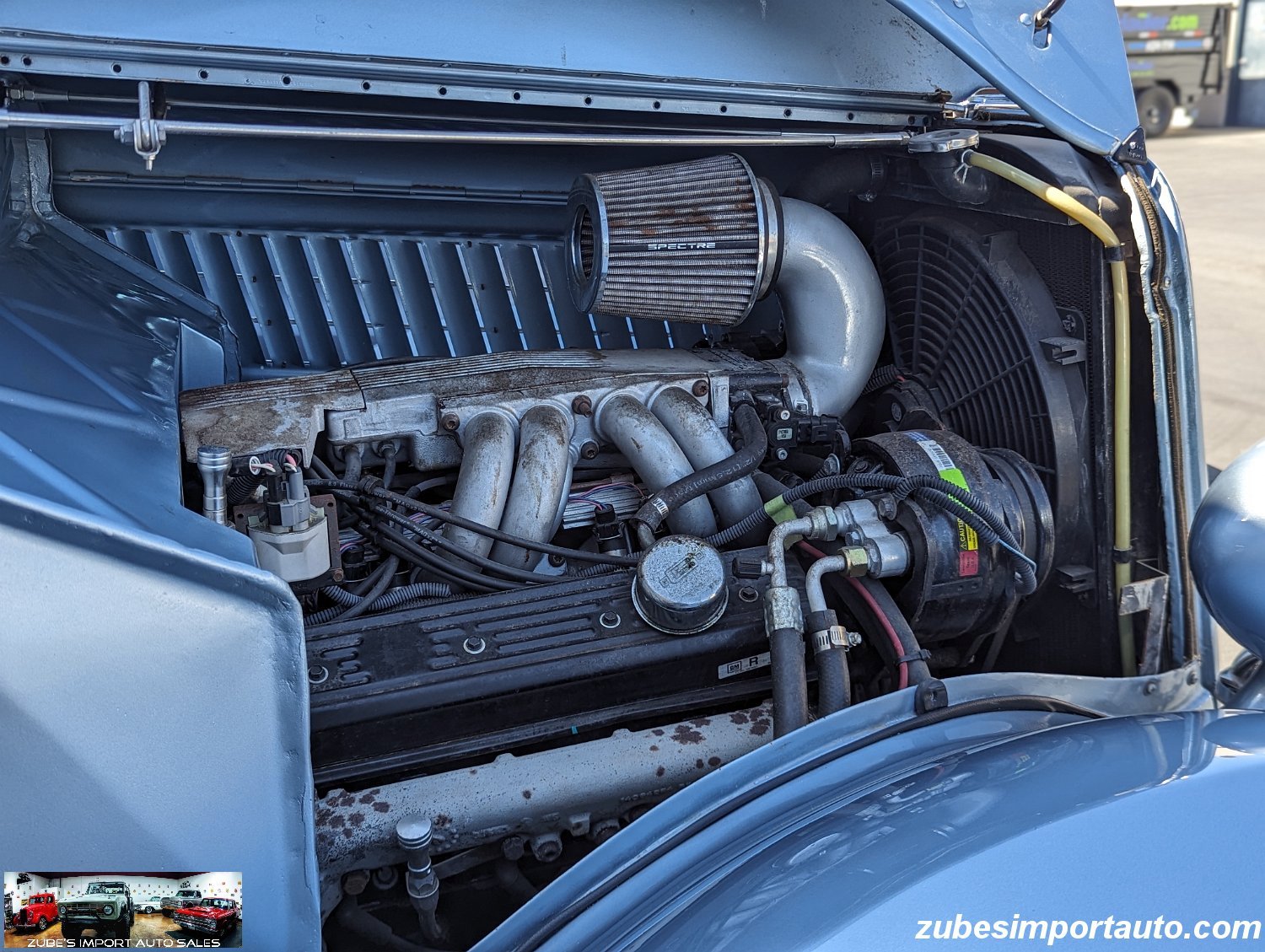 Elevating its allure, the exterior underwent a five year restoration, accentuating the timeless charm of the 1935 Ford 5-window coupe. American Racing wheels serve as a distinct touch, infusing a personalized and stylish flair.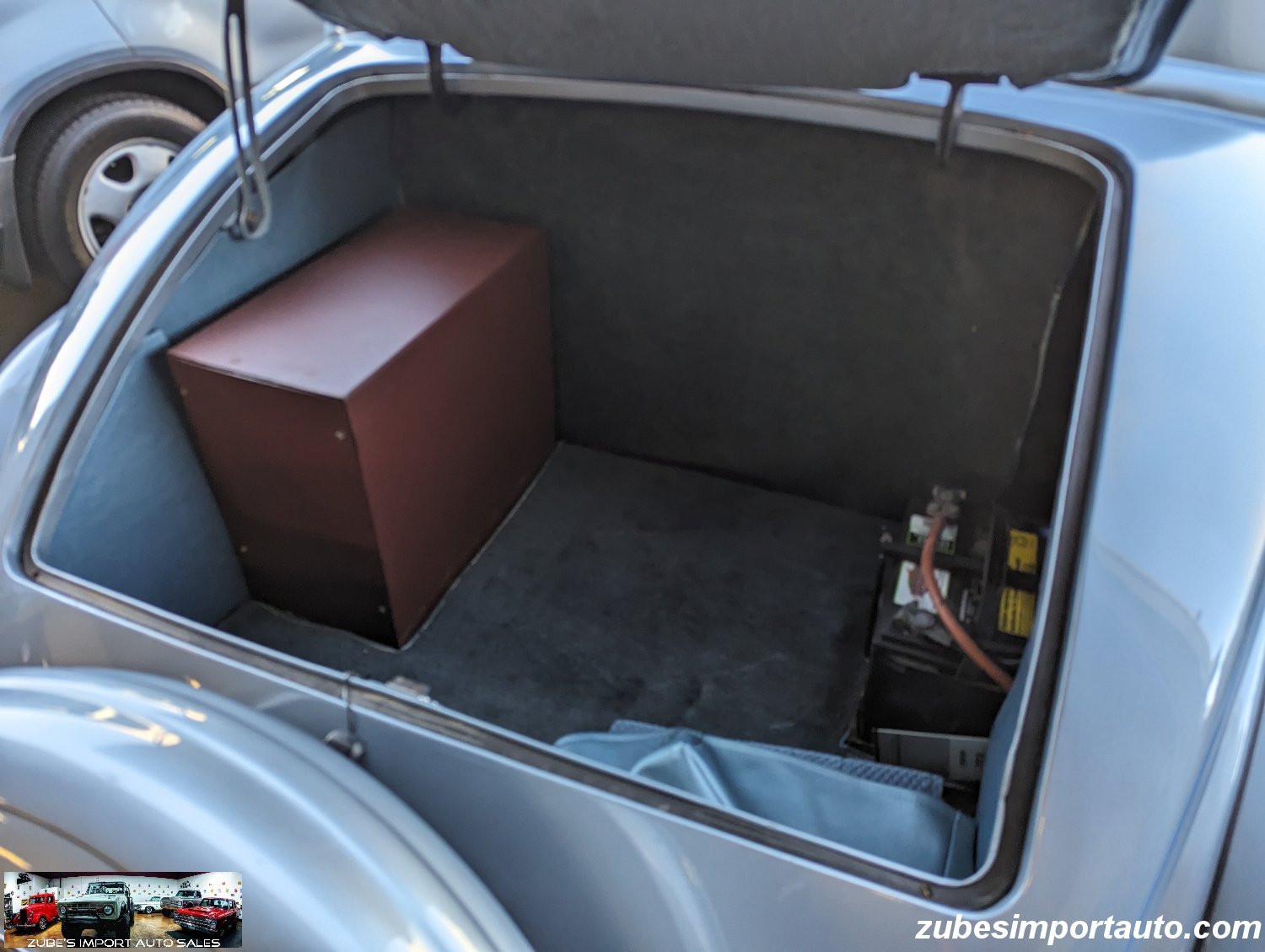 In essence, this 1935 Ford Coupe, revitalized with the 1987 IROC Tuned Port Injection 350 V8 engine, epitomizes the union of classic aesthetics and contemporary performance enhancements. It salutes an era when design and innovation coalesced, crafting an automotive legacy that resonates with enthusiasts and collectors alike.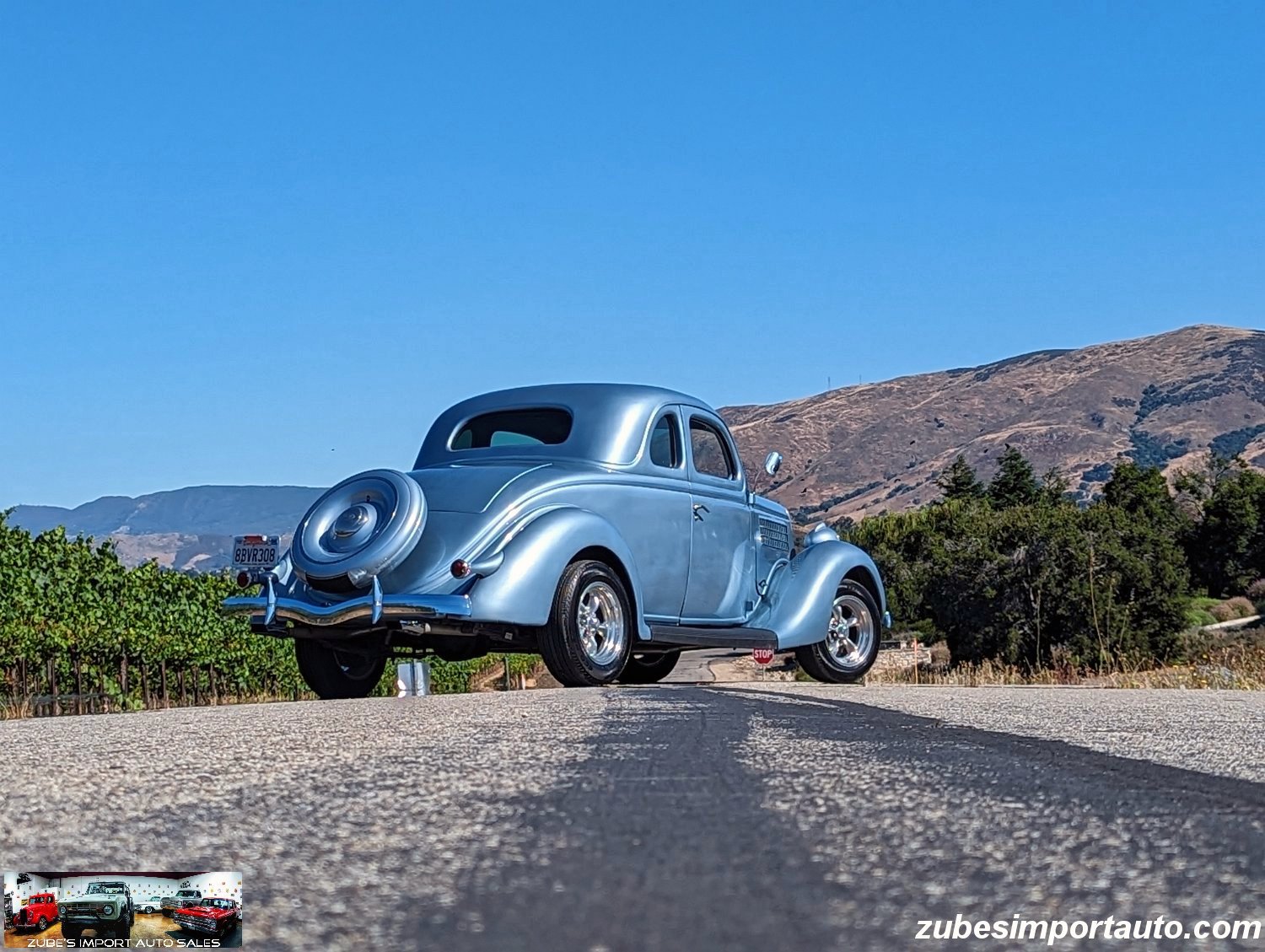 COME BY FOR A TEST DRIVE


KEY FEATURES:
'87 IROC-Z TPI V8 ENGINE
4-SPEED AUTOMATIC TRANSMISSION
MUSTANG II POWER STEERING RACK AND PINION
POWER FRONT DISC BRAKES
POWER REAR DRUM BRAKES
TILT WHEEL
VINTAGE AIR
ROSTRA PRECISIONS CONTROLS, INC ULTRACRUISE II CRUISE CONTROL 
PAINLESS WIRING HARNESS
AM/FM/CD/XM MODULE
BACKUP CAMERA
FRONT BUCKET SEATS
FULL ENGINE OVERHAUL WITH RECEIPTS IN GALLERY
REBUILT FORD 9-INCH REAR END WITH 3.00 GEARS
DUAL EXHAUST
FLOOR SHIFT CONSOLE
GRANT STEERING WHEEL
AMERICAN RACING WHEELS 15″ 205/60/R15
LIGHT ICE BLUE METALLIC EXTERIOR
BLUE VINYL WITH CARPET INTERIOR
| | |
| --- | --- |
| Year: | 1935 |
| Make: | Ford |
| Model: | Model 48 |
| Body Style: | 5 Window Coupe |
| Mileage: | 4,003 tmu |
| Transmission: | 4-Speed Automatic |
| Condition: | Fully Restored |
| Location: | San Luis Obispo |
| Price: | $34,995 |
| Drivetrain: | RWD |
| Engine: | IROC-Z 5.7L V8 TPI |
| Exterior Color: | Light Ice Blue Metallic |
| Interior Color: | Light Blue |
| MPG: | City / Highway |
| VIN Number: | 4854145034 |
Financing Calculator
| | |
| --- | --- |
| Cost of Vehicle ($): | |
| Down Payment ($): | |
| Annual Interest Rate (%): | |
| Term of Loan in Years: | |
Calculate My Payment
| | |
| --- | --- |
| NUMBER OF PAYMENTS: | 60 |
| PAYMENT AMOUNT: | $ 89.11 |
Recent Vehicles
Browse through the vast selection of vehicles that have recently been added to our inventory.