1967 Volkswagen Beetle 1600cc (1.6 liters) 4-Cylinder 4-Speed Manual
Locally Owned TURN KEY 1967 VW Beetle!
If you've been on the hunt for a TURN KEY 1967 VW Beetle look no further!  This '67 was brought to us by its current owner who purchased the Beetle in 2012. Since then it has undergone a restoration fully documented with all receipts and a maintenance log of services included in the photo gallery! Restored with a new interior, full engine rebuild, suspension, drivetrain, brakes, and much more.  Powered by a 1600cc 1.6-Liter 4-Cylinder paired with a 4-speed manual transmission. Finished in popular Bahama Blue with black vinyl interior. Make sure to look through the photo gallery and scroll below to see the full restoration details of the work performed. This '67 VW Bug is offered with all receipts of work dating back to 2012, a maintenance log of all services performed, and a clean California title. Classic Car financing and worldwide transport available. ***NO SMOG REQUIRED!***
*** FULL-SERVICE LIST OF RESTORED ITEMS SINCE 2012***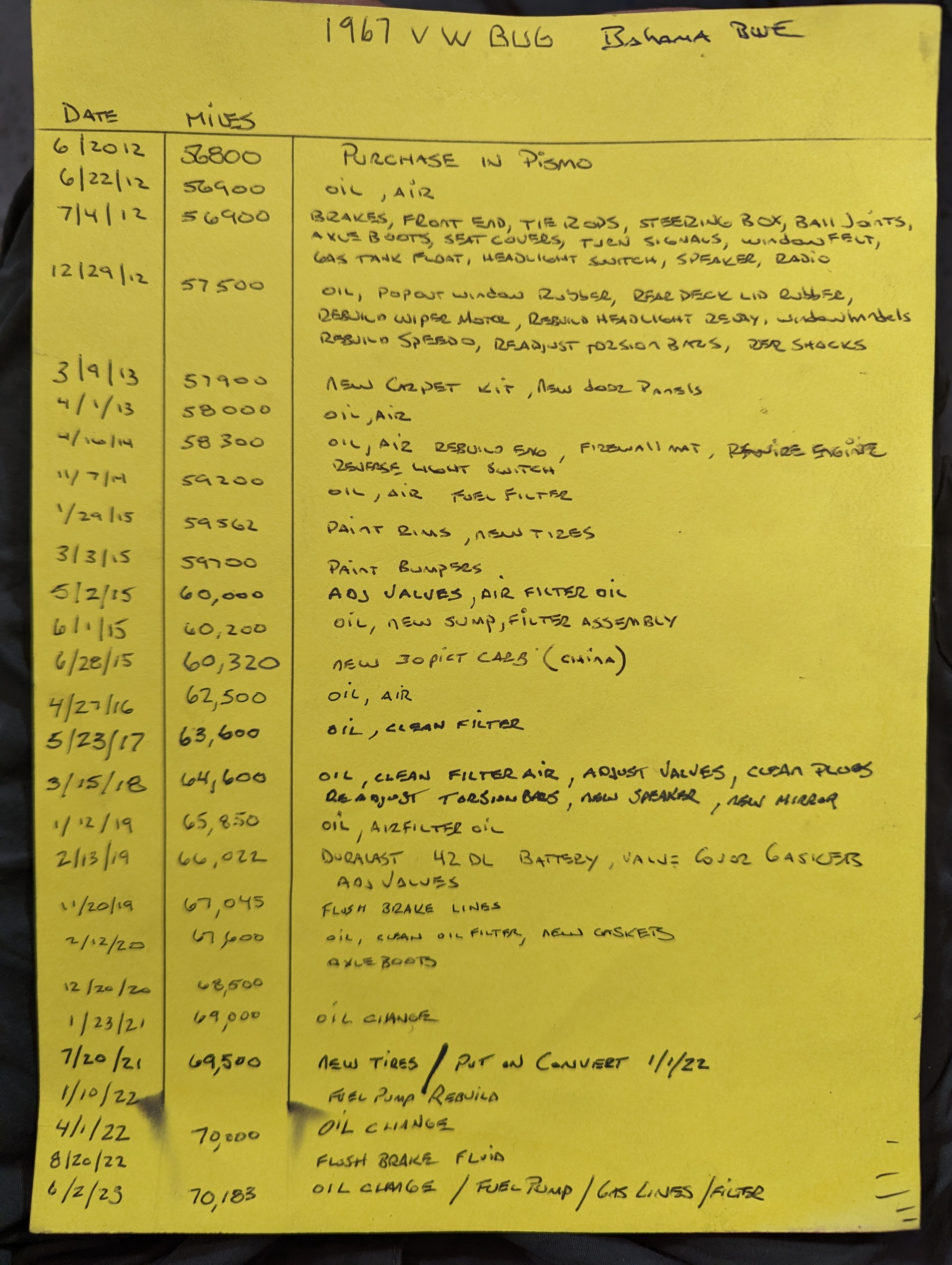 SLO'S BEST CLASSICS SINCE 2009
ENGINE MACHINE WORK BY RIMCO!
The Volkswagen Beetle, officially known as the Volkswagen Type 1, is one of the most iconic and recognizable vehicles in automotive history. Manufactured by the German automaker Volkswagen, the Beetle was first introduced in the late 1930s but gained significant popularity in the post-World War II era.
FULLY RESTORED INTERIOR- NEW CARPET KIT, SEAT UPHOLSTERY, FOAM PADDING, DOOR PANELS
The 1967 Volkswagen Beetle represents a significant milestone in the model's evolution. By this time, the Beetle had already established itself as a symbol of practicality, affordability, and reliability. The 1967 model year brought several noteworthy changes and refinements to the Beetle's design.
The 1967 Volkswagen Beetle retained its classic, rounded shape with a distinctive rear-engine, rear-wheel-drive layout. Its compact size and simplicity made it a popular choice for urban commuting and served as a versatile vehicle for various purposes. The Beetle featured a spacious interior with seating for up to four occupants, and its rear engine allowed for a surprisingly large trunk space.
Technical Specifications/Features:
Engine: The 1967 Beetle was powered by a rear-mounted, air-cooled, horizontally opposed four-cylinder engine. The standard engine size for this model year was 1500cc (1.5 liters), producing 53 horsepower. The engine was mated to a four-speed manual transmission.
Safety: The inclusion of front and rear seat belts became standard equipment this year, enhancing occupant safety.
Electrical System: The 1967 Beetle was equipped with a 12-volt electrical system, an upgrade from the previous 6-volt system. This change resulted in improved lighting, better-starting performance, and increased reliability.
Suspension: The front suspension of the 1967 Beetle was a robust independent suspension system, providing a smooth and comfortable ride. The rear suspension utilized torsion bars, which contributed to the Beetle's excellent road handling characteristics.
Exterior Styling: The 1967 model featured several design updates, including a larger and more rectangular front windshield, a revised front hood with dual air intakes, and a redesigned dashboard with new instrumentation.
Why the 1967 VW Beetle Was More Desirable: The 1967 Volkswagen Beetle is often considered more desirable than other years for a few reasons:
Safety Enhancements: The inclusion of seat belts as standard equipment and improved bumpers showcased Volkswagen's commitment to safety, appealing to buyers concerned about occupant protection.
12-Volt Electrical System: The upgraded electrical system offered better reliability and enhanced lighting, making it more suitable for modern driving conditions.
Last Year of Classic Styling: The 1967 model marked the end of an era for the classic Beetle design, making it highly sought after by enthusiasts and collectors. The subsequent models featured more significant design changes, such as larger bumpers and a different body shape.
Increasing Popularity: By 1967, the Beetle had already gained a substantial following worldwide due to its reputation for reliability and affordability. This popularity, combined with the various updates and improvements, contributed to the high desirability of the 1967 model.
Overall, the 1967 Volkswagen Beetle stands as a significant model year in the car's history, featuring notable improvements, and safety enhancements, and representing the end of an era in terms of its classic design.
RUNS AND DRIVES LIKE NEW! ***BATTERY TRAY REPLACED!***
***PRICED TO SELL!!!***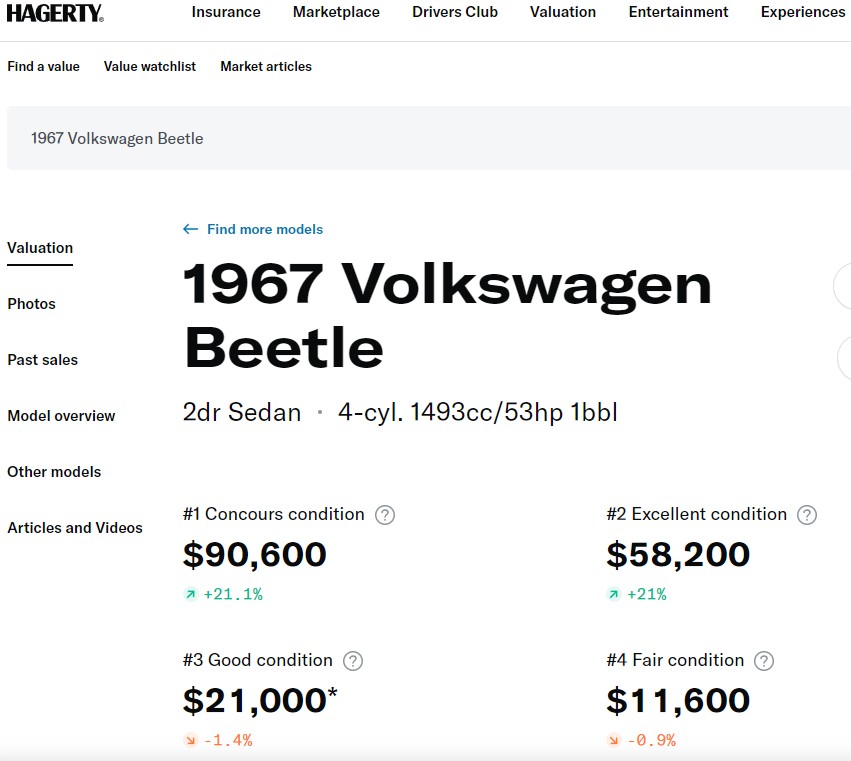 Main Changes:
1500 engine introduced – similar to earlier type 2 (bus, kombi) engine, but without the rear cross member mounting point.
"Volkswagen" badge on engine lid.
12 volt electrics.
Generator increased from 180 to 360 watts.
Voltage regulator moved from generator to under rear seat.
Rear track increased with wider swing axles to 1350mm.
Clutch diameter increased from 180 to 200mm on 1300/1500 models.
130 tooth ring gear (flywheel) replaces 109 tooth.
Dual brake cylinder system (drum brakes).
Front discs (single circuit) on 1500 models to some countries (but not US).
Outside door handle has push button.
Inside door handles recessed.
Two speed wipers.
Back-up lights (on US models).
Vertical headlights replace sloped glass.
US models get sealed beam headlights (other countries retain bulb-and-reflector).
Locking buttons on doors.
Driver's armrest on door.
Slimmer chrome trim on outside.
Driver's outside mirror becomes standard.
Rear anti-sway bar added.
VW Beetle 1967 chassis numbers: 117 000 001 – 117 999 000
| | |
| --- | --- |
| Year: | 1967 |
| Make: | Volkswagen |
| Model: | Beetle |
| Body Style: | Coupe |
| Mileage: | 70,198 TMU |
| Transmission: | 4-Speed Manual |
| Condition: | Excellent |
| Location: | San Luis Obispo |
| Price: | $0 |
| Drivetrain: | RWD |
| Engine: | 1600 cc 1.6L 4-Cyl |
| Exterior Color: | Bahama Blue |
| Interior Color: | Black |
| MPG: | City / Highway |
| VIN Number: | 117466808 |
Financing Calculator
| | |
| --- | --- |
| Cost of Vehicle ($): | |
| Down Payment ($): | |
| Annual Interest Rate (%): | |
| Term of Loan in Years: | |
Calculate My Payment
| | |
| --- | --- |
| NUMBER OF PAYMENTS: | 60 |
| PAYMENT AMOUNT: | $ 89.11 |
Recent Vehicles
Browse through the vast selection of vehicles that have recently been added to our inventory.