1965 Plymouth Belvedere 426 Hemi A990 Super Stock Tribute
A Tribute to the 101 Super Stock Plymouth's Produced for NHRA Super Stock in 1965
$47,500
$44,995
Plus Taxes & Licensing
Sold
THE HEALTH & SAFETY OF OUR CUSTOMERS IS OUR TOP PRIORITY!
 DURING THE COVID-19 HEALTH CRISIS ALL VEHICLES ARE AVAILABLE  BY APPOINTMENT ONLY
Zube's Import Auto Sales is taking extra precautions and making additional efforts to ensure your safety by ensuring the cleanliness of our facilities and vehicles.
 Offering a no-contact purchase and delivery
 All vehicles are sanitized before and after each test drive with particular attention to steering wheels, controls, and door handles. We are allowing our guests to take test drives without others in the vehicle.
You will be offered a new pair of disposable gloves each time a vehicle is moved and cleaned to prepare for your test drive.
During this challenging time, many people have concerns about their public interactions. If you have a planned Sales Visit, we look forward to seeing you and want to reassure you that we are doing everything we can to promote a safe and secure experience.
This '65 Plymouth Belvedere 426 CI Hemi  is for the die hard MOPAR enthusiast who is missing a Plymouth Belvedere HEMI A990 lightweight TRIBUTE in their collection!  Beautiful era-correct Ruby Red Hemi Mopar muscle car built to mimic the Race Hemi Belvederes assembled for the 1965 model year with 101 total units produced to compete against Ford and Chevy in the NHRA Super Stock class.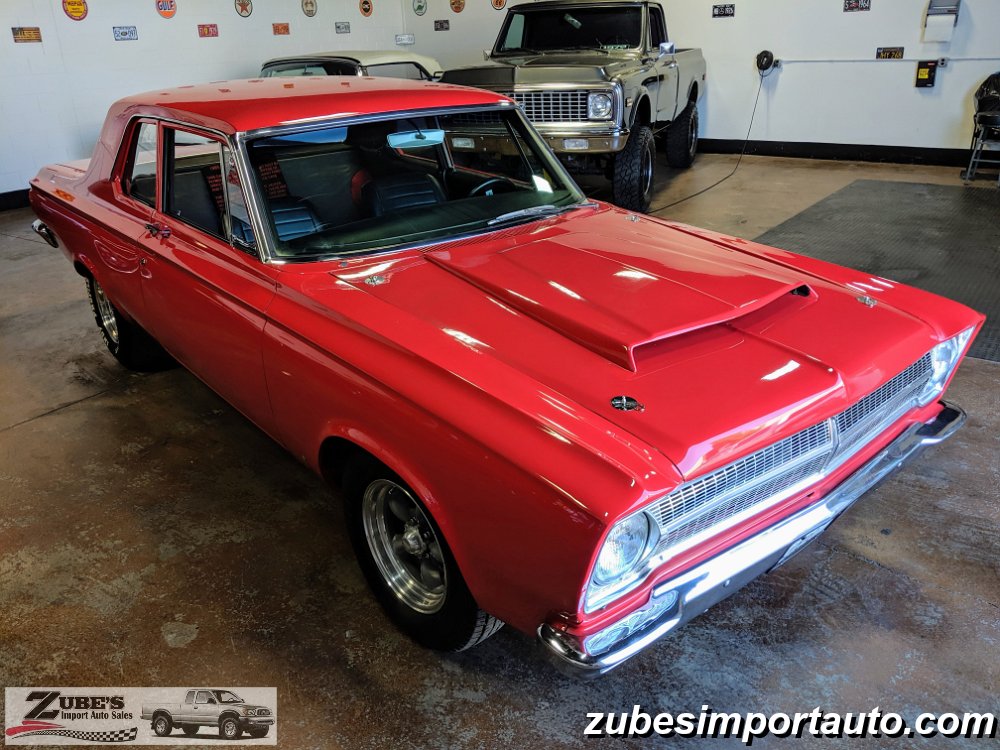 This car was built as a radio, heater, and back seat delete. Arm rest, side mirrors also deleted with one windshield wiper, and a fiberglass hood. Rear side windows are plexiglass.  Don't miss out on this rare chance to own one of the Iconic drag cars of the 60's! This 426 HEMI  does not disappoint!!! Turns heads everywhere it goes and one you rarely see at ANY car show.  If you want an American Muscle car that stands out from the rest look no further. This Mopar was put together by professionals and is very well thought out. This is the one you want.
FINANCING & WORLDWIDE TRANSPORT AVAILABLE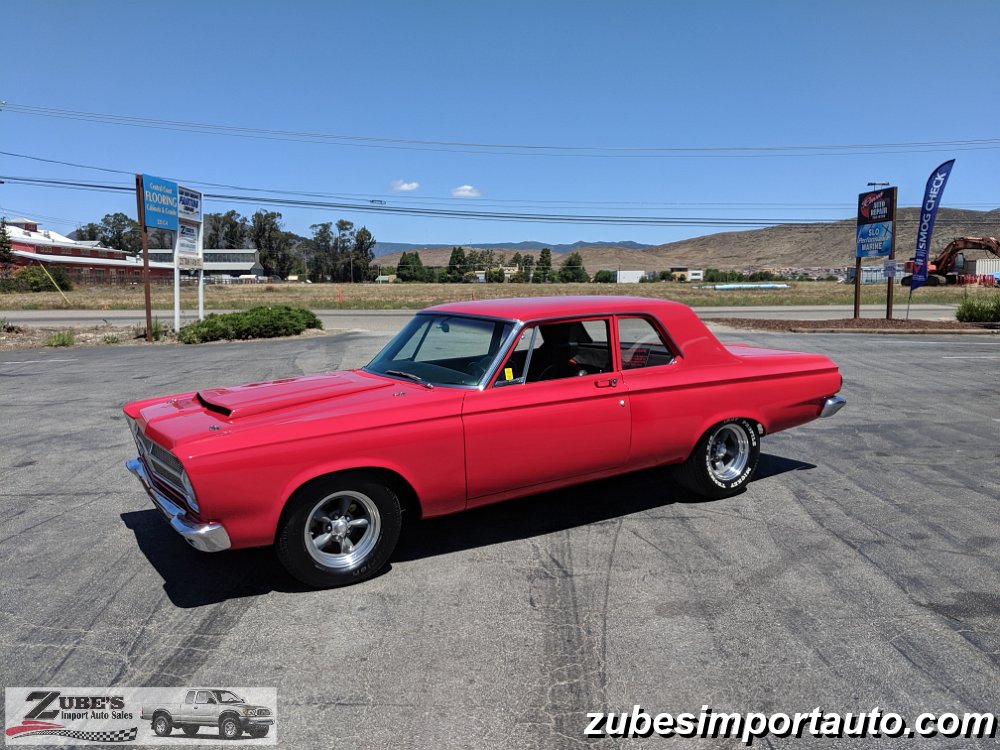 $25,000 alone IN BUILT 426 CI HEMI WHICH INCLUDE:
Professionally Built by former Nascar engine builder
Correct 426 Hemi Block with Indy Stroker Kit (indyheads.com)
Bored, Stroked & Balanced
Indy High Port Heads
Forged Stroker Crank
H-Beam Piston Rods
Indy Blueprinted Oiling System
Full MSD Ignition with Billet Distributor
Modified Belt-Driven full aluminum water pump & housing
Street-style alternator & Starter
Correct Magnesium Cross Ram Air Intake Manifold
Twin 650 4BBL Holley Carburetors
Custom 3″ Stainless Steel Headers
Custom 3″ Exhaust with crossover pipe
Dual Dynomax mufflers
Custom aluminum Ron Davis radiator with shroud & dual electric fans
Moroso Blue Max Ignition Wire Set
MSD High Voltage Ignition Coil
Stainless steel flexible radiator hoses
Moroso Valve Cover Breathers
Jegs Fuel Pressure Regulator w/ Gauge
Trans cooler/ Elephant Ears
Runs great on PREMIUM pump gas
HIGHLIGHTS
Clear California Title
Street Legal
100% Solid – *NO HITS* – *RUST FREE*
BODY/FENDERS/DOORS/FLOORS/AND TRUNK NEVER CUT UP*
TRIM TAG INTACT
FIBERGLASS HOOD w/ Hood Pins & extended rods to raise hood for car shows
BASE COAT/CLEAR COAT RUBY RED
ALL BRIGHT WORK IN GREAT CONDITION
WEATHERSTRIPPING/WINDLACE/WINDOW WISKERS REPLACED 2011
All Brakes (Front Disc/ Rear Drums) replaced
Brake Lines replaced
Correct Super Stock suspension
Shocks & Springs Replaced (KYB Gas-A-Just front/rear)
Transmission: 727 TorqueFlite 3-speed automatic
& TransGo Shift Kit
Era-correct American Racing Torq Thrust D wheels
Correct 8.75-inch rear axle / Sure Grip differential / 3.55 gears
Era-Correct Ruby Red Color
Gary Ball Interior with lightweight Super Stock bucket seats
Interior in Show Quality
Original body- never cut up, no welded in roll bar, or mini tubs to detract from the ultimate value of car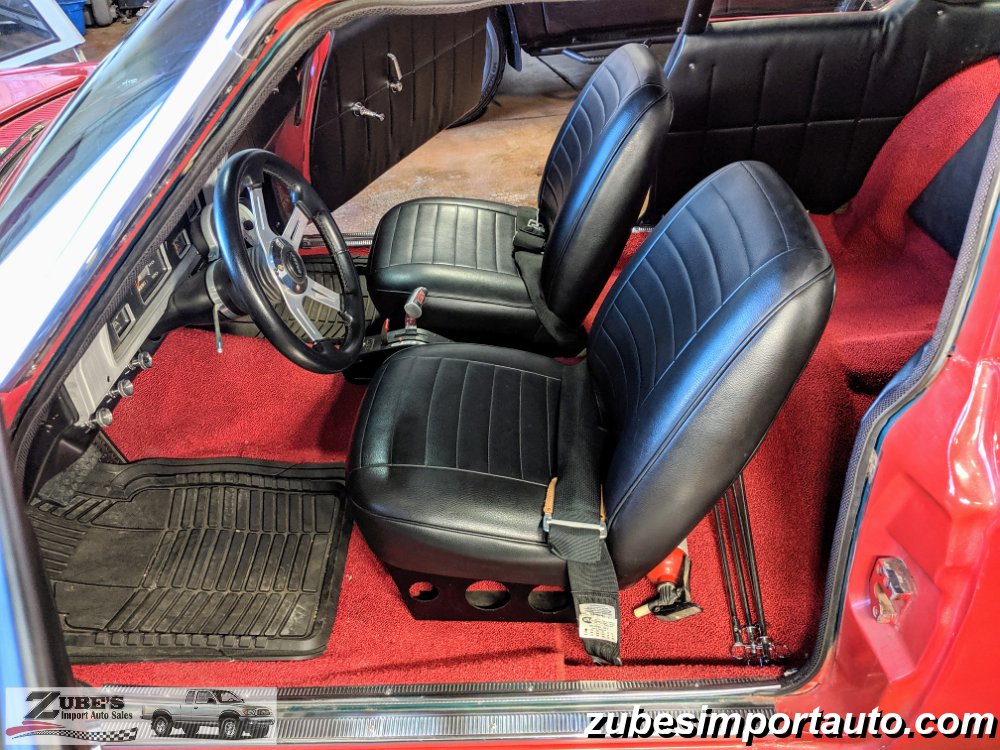 MAINTAINED BY CLASSIC AUTO WORKS OF OCEANO, CA
https://classicautoworks.net/
***ITEMS REPLACED OVER THE YEARS BY CURRENT OWNER***
Universal Dip Stick
Mopar Gear Set 3.55's from 4.56s to make streetable
Gear Lube service
Valvoline VR1 Race oil
KYB shocks front/rear
Kickdown Cable Kit
Hughes Performance Pro-Street 30 Series Torque Converter
TCI Street Fighter Valve Body
Trans Filter
Dexron ATF
Master Cylinder
Brake Fluid
OTHER HIGHLIGHTS INCLUDE:
Doug's Electric Cut-Outs for street/strip
Autometer tachometer mounted on right side steering column
Grant Steering Wheel
B&M PRO Ratchet Shifter
Mickey Thompson S/S Indy Profile rear tires L60-15
BFG Radial T/A P215/70R15 front tires
Interstate Mega-Tron Plus battery
Wisco Products 17 gallon plastic fuel cell
Mallory Comp High Efficiency 500 Series Fuel Filter
Rear mounted battery
Heavy Duty cables with fuel cut-off switch
BRIEF HISTORY ON THE '65 SUPER STOCK CLASS
In late 1964, as the new 1965 cars began to roll off the assembly line, Chrysler's Detroit Lynch Road Assembly Plant became a hotbed of performance. A special A990 version of the Race Hemi was available in either the new Dodge Coronet or Plymouth Belvedere. The engine retained the 12.5:1 compression ratio and 425hp output rating from its introduction the year before, but it benefitted from several internal improvements, including a redesigned solid-lifter cam, aluminum cylinder heads, and a magnesium intake manifold. The bodies receiving these engines had thin-gauge steel components and lightweight Corning glass in the doors, rear-quarters, and backlight. To qualify for the NHRA's Super Stock classes, 100 units of each had to be built. Out of the 101 Plymouth Belvedere Super Stock A990 built, 14 came with 4-speed transmission and out of those only one was painted in Bright Ruby Red.
DON'T MISS OUT ON THIS BEAUTY!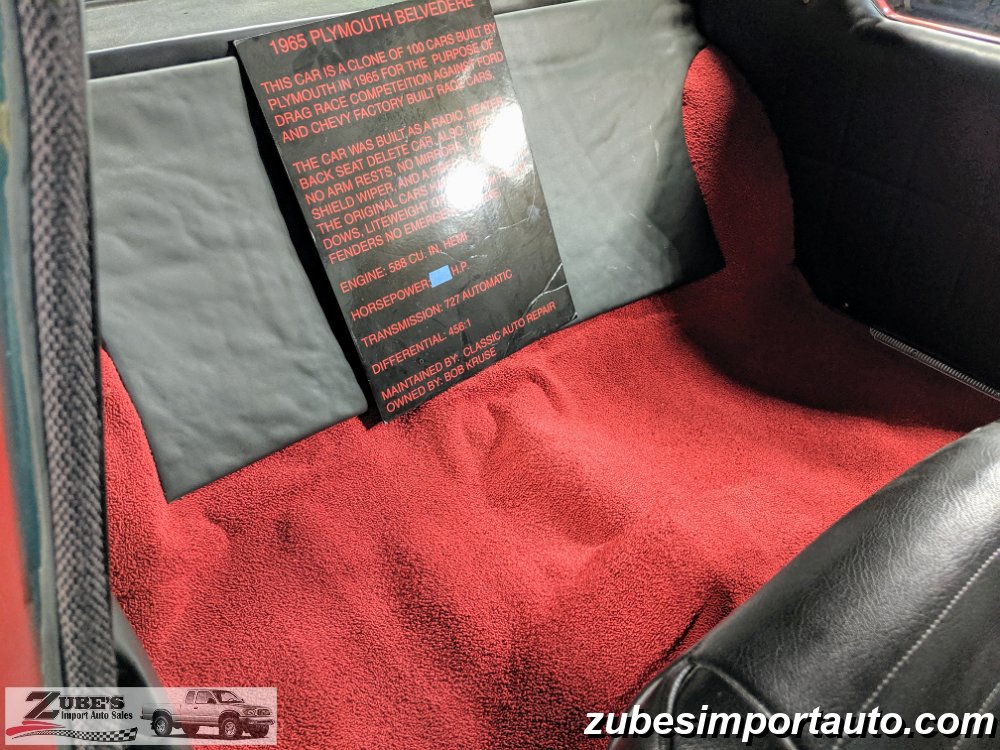 DON'T FORGET TO WATCH OUR WALKAROUND VIDEO ON YOUTUBE!
The rules for 1965 remained basically the same as they had been for 1964. However, there were a
few big changes. One major change was an increase in the number of units produced to qualify for
any stock class. In 1964, it had been established at 50 units. This was doubled in 1965 to 100 units
produced. In the top stock classes, i.e. S/S, S/SA, AA/S, and AA/SA, NHRA approved using any flat-
tappet camshaft — the first real change allowed in a stock engine. Tubular exhaust headers could
now have 3 1/2" open outlets, known as collectors or dump tubes, and replacement mufflers could
be any type as long as they met the minimum length of 18".

To answer the challenge of the SOHC
Comets and Mustangs, Chrysler
developed the altered wheelbase
super stocker. The rear axle assembly
was moved forward a full 15 inches,
and the front axle forward 10 inches,
dropping the wheelbase to 110 inches.
This is the Golden Commando
Plymouth undergoing final preparation
for paint. (NHRA via Brent Hajek)

In the Factory Experimental classes, there was now a rule about altering the wheelbase, which
could be relocated a maximum of 2% of the total wheelbase. The wheelbase standard itself, was
established at 114" for any vehicle with a 427ci powerplant. Lightweight components, such as
aluminum or fiberglass front end assemblies, were legal only in FX classes, unless a minimum of
100 parts or assemblies had been produced. Fenders could be altered for wheel/tire installation.For tire requirements, FX cars could use anything that would fit in the wheelwell. Tires for Stock
class cars were again limited to 7" maximum width and must have at least two 1/16" grooves or
tread to qualify as an on-the-street tire. Custom wheels were allowed in Stock classes as long as
they weighed more than the original equipment wheels. Magnesium wheels were allowed in FX
classes. Modified Production rules remained the same as they had been in 1964. Because of the
release of the new Ford Single Overhead Cam 427 Hemi-head engine, NHRA was forced to allow
use of the roller lifter in FX classes.
One of the interesting sidelights in the 1965 NHRA rules was the beginning of factory horsepower
"ratings." The car manufacturers, to get around safety and insurance problems, were underrating
the advertised horsepower in many of the cars built from 1963 on, especially those at the very top
of the factory hot rod list. Chrysler rated the Dodge and Plymouth 426 super stock engines at 425
horsepower. They then rated the new Hemi engine at the same 425 hp, even though it was evident
the Hemis were putting out at least 50-75 more horses than the old wedge combination.
Competition results clearly indicated that the engine was putting out in the neighborhood of 500
horsepower.NHRA decided to begin rating the horsepower on stockers based on their own calculations, which in
turn were based on things like dynamometer readings and competitive performance, i.e. elapsed
times and speeds that indicate how much horsepower a particular engine was really producing.
They did however, pick and choose the engines they were going to re-rate. These included several
Junior Stock class entries as well as the Top Stock guys. The little guys racing in Jr. Stock were
really caught unaware. In early 1965, you really didn't know what class you were assigned to until
you got to the track, even though you had built your car for a specific class based on existing rules.
The AHRA didn't have this type of problem in any class, as it rated all stock class vehicles by cubic
inches-to-weight ratio first, then by carburetion type, then by camshaft. It made for a lot more
classes, thus more guys were actually winners at the track, but it was a puzzler to the casual
observer. AHRA officials said it had been getting too difficult to determine if a camshaft was stock or
not, especially in light of the new legal replacement cams that many aftermarket manufacturers
were selling, so they simply legalized all camshafts for use in stock classes.

Shirley Shahan, the "Drag-On-
Lady," comes out of the gate at
Carlsbad Raceway in late 1964
with her new '65 legal S/SA
Plymouth. Her Plymouth, prepared
by Butch Leal and her husband H.
L. Shahan, was a consistent
winner on the West Coast in
1965. It would be 1966 before she
won her first major title. (Glenn
Miller)

Dodge and Plymouth
For 1965, the Chrysler engineers seemed content with the amount of horsepower that the big 426
Hemi was capable of producing. The S/S and FX cars were virtually identical to the late 1964
models that had been the scourge of the nation's drag strips. In fact, more than one competitor
simply put new 1965 sheet metal on an old '64 racer and went to the strip. As the old saying goes,
"If it looks like a duck and sounds like a duck, it must be a duck!" The 2% altered wheelbase cars
were again forced into A/FX class, where they were competitive but not dominant. Stock
wheelbased cars owned both S/S and S/SA classes, but then, they were the only cars that met
class requirements.Just prior to the 1965 NHRA Winternationals meet at Pomona, Chrysler released four new vehicles
to compete in A/FX class: two Dodges and two Plymouths. The cars were standard S/SA hardtops, i.
e. lightweight front end packages and Hemi engines, but with the allowed 2% wheelbase alteration.
On the West Coast, Dick Landy got a Dodge and Tommy Grove drove the Melrose Missile
Plymouth; while back in Detroit, the Ramchargers Dodge and Golden Commandos Plymouth were
finished just in time for the NHRA Big Go West. Grove's Missile made it all the way to the finals
before losing to Bill Lawton and the Tasca Ford A/FX SOHC-motored Mustang. The Mustangs and
Comets were clearly the class of the FX competition and Chrysler had to do something. The
"something" had actually been underway for a couple of months, and would create a new term in
drag racing — Funny Car.
Chrysler took twelve standard super stock race cars from the production line — eight new
production S/S cars plus the four A/FX cars that had been at Pomona. The twelve cars were
completely disassembled and gutted. The body panels were put in an acid dip tank and when they
were removed, some were so thin that it seemed light could be seen through the metal. Then the
real modifications began.Just behind the front seat, 15" of the floor pan were removed and the entire rear floor back to the
trunk area was cut and moved forward. This placed the rear spring mounts and axle housing 15"
forward of their original position, bringing the rear wheels to a position just under the rear windows.
Naturally, the rear fenders were also cut out and moved forward to bring them inline with the new
rear wheel position. A steel patch panel was welded into place behind the altered rear wheel well,
and the entire rear quarter area was then finished and primed.
Don Nicholson's SOHC Comet Cyclone
at Piedmont Drag Raceway in March
1965 for a match race with the Sox &
Martin Plymouth. Bill Stroppe prepared
three '65 Comet Cyclones for A/FX
competition, with fiberglass front
fenders, hood, and bumper. With a
stock wheelbase and running pump
gas, Nicholson's Comet would easily
run mid-10s. (Author's Collection)

| | |
| --- | --- |
| Year: | 1965 |
| Make: | Plymouth |
| Model: | Belvedere A990 Tribute |
| Body Style: | COUPE 2-DR |
| Trim: | Super Stock |
| Mileage: | 81,394 |
| Transmission: | A727 TorqueFlite |
| Condition: | Excellent |
| Location: | San Luis Obispo |
| Price: | $44,995 |
| Drivetrain: | RWD |
| Engine: | 588 CI Hemi |
| Exterior Color: | Ruby Red |
| Interior Color: | Black & Red |
| MPG: | City / Highway |
| VIN Number: | 3157239516 |
Financing Calculator
| | |
| --- | --- |
| Cost of Vehicle ($): | |
| Down Payment ($): | |
| Annual Interest Rate (%): | |
| Term of Loan in Years: | |
Calculate My Payment
| | |
| --- | --- |
| NUMBER OF PAYMENTS: | 60 |
| PAYMENT AMOUNT: | $ 89.11 |
Recent Vehicles
Browse through the vast selection of vehicles that have recently been added to our inventory.