1972 Chevrolet K-10 4X4 Short Bed 350ci V8 3-Speed TH350 Automatic
Rare & Hard to Find K10 4x4 ShortBed! Locally Owned. Last Year 2nd Gen K10!!!
Locally owned & extremely rare California 1972 Chevy K10 1/2 TON short bed 4X4 with 350 CI V8 and Turbo 350 3-speed automatic transmission.  The last year for the 2nd Generation C/K body style (1967-1972). Only a handful of short bed '72 K10's available for sale in the Country making this Chevy highly desirable. Frame off restoration done in the early 2000's and then had another restoration done in 2014. This K10 has resided here on the Central Coast its whole life since new. Very well known among the locals as "LIL PUP".  Don't miss out on this rare opportunity to own one of Chevy's most iconic 4×4 pickup trucks. You won't find another one like it! Great investment that will only appreciate with time.  ***NO SMOG REQUIRED ON THIS 1972!!!!****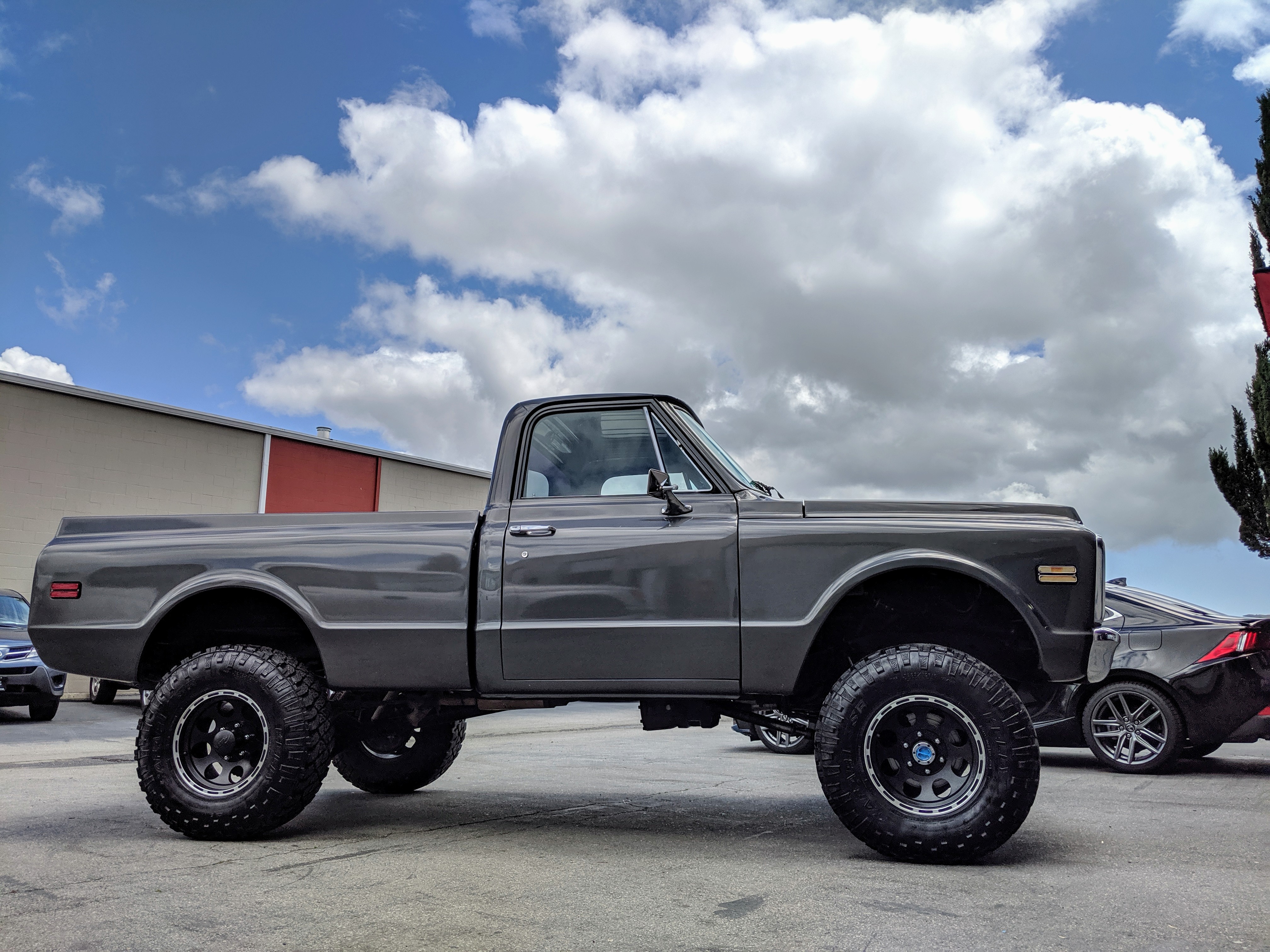 Assembled at the Fremont, CA factory plant in 1972. This Chevy K10 has been in California its whole life with no rust. Restored over the years in Galaxy Gray Metallic paint, new carpet kit, bench seat re-upholstered, door panels replaced, black Pacer rims on Kelly Safari TSR tires in LT285/75R16, rancho shocks front and rear, upgraded stereo system, transmission overhaul/rebuild, and many other services which we have receipts for from the owner. Has 40 series flow master mufflers, Hooker Competition full length ceramic coated headers, Edelbrock RPM intake manifold, and mild cam that give it a nice deep rumble.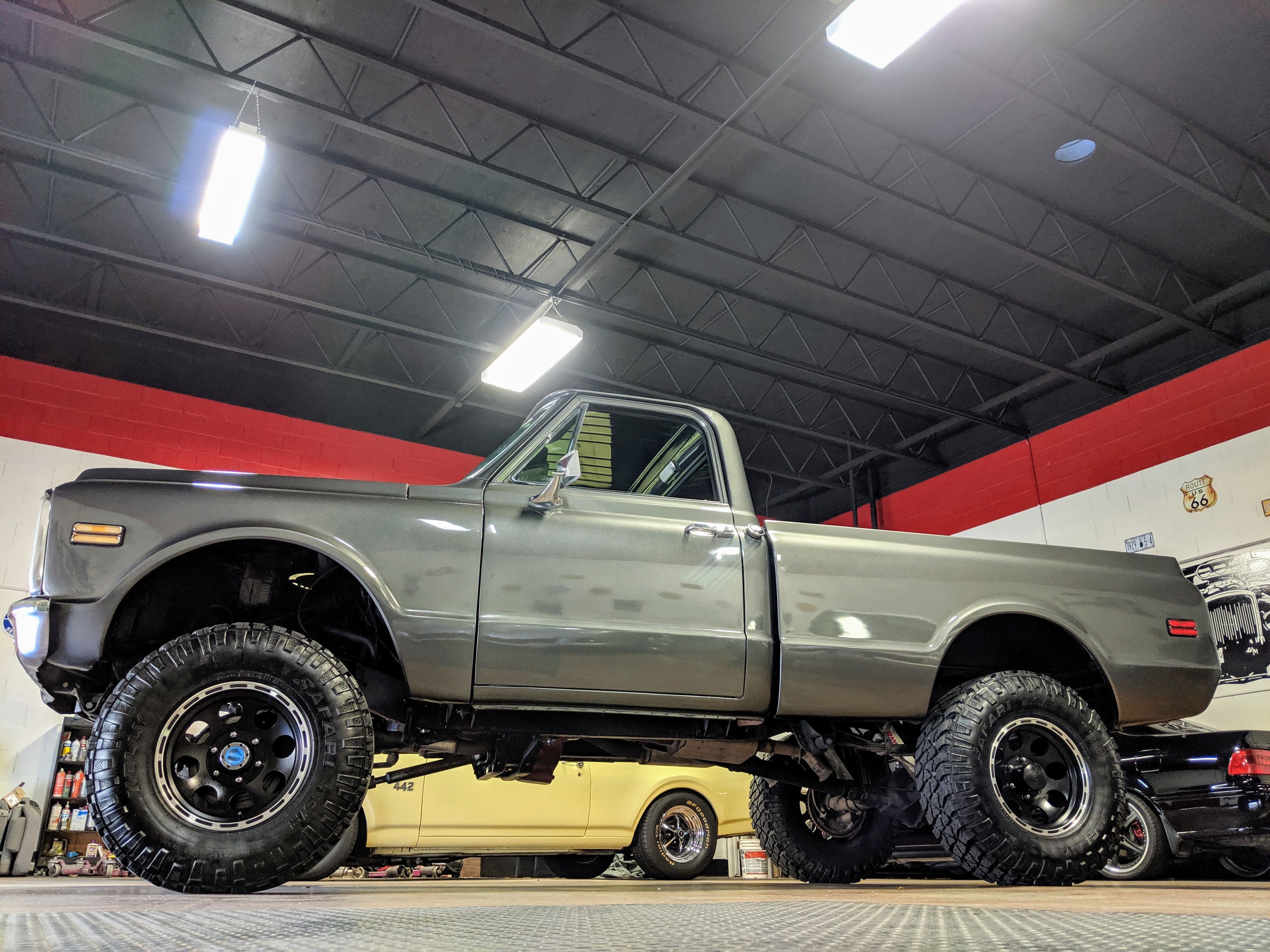 Comes with factory front power disc brakes, rear drum brakes, power steering, manual locking front hubs, factory bench seat with 3-speed automatic on the column.  A great looking truck that gets thumbs up everywhere you go. Short bed left unfinished for the new buyer who can paint it to match, spray-in bedliner or customize it with nice bed-wood kit. The options are endless.
Services completed over the years with receipts include:
Transmission overhaul including new torque converter, fluid, and rebuild kit done last month April 2019!
Front brake hoses replaced, rear drums, rear brake shoes, wheel cylinders, and fluid replaced
Audio system install by Drive Customs of San Luis Obispo including Kenwood  AM/FM/CD with built in bluetooth for handsfree calling and wireless audio streaming, illuminated front USB for Iphone/Ipod/Android/Front Aux input, Pandora App ready, Remote App ready. Illusion Audio Series 6×9's with 1′ aluminum tweeter and integrated 6db crossover, 16g speaker wire, JL Audio core series 2-channel twisted-pair audio interconnects with molded connectors, JL audio premium 8 AWG power connection system, JL Audio JX Series 2 Chan A/B Full range amplifier, 120 wattsx 2 or 360 watts by1 @ 4ohm, SoundsSkins all in one vibration control material with sound absorption layer
Front brake hoses/calipers replaced, center seat belts installed,rear differential serviced @91,595
Edelbrock black powder coated valve covers and valve cover breather installed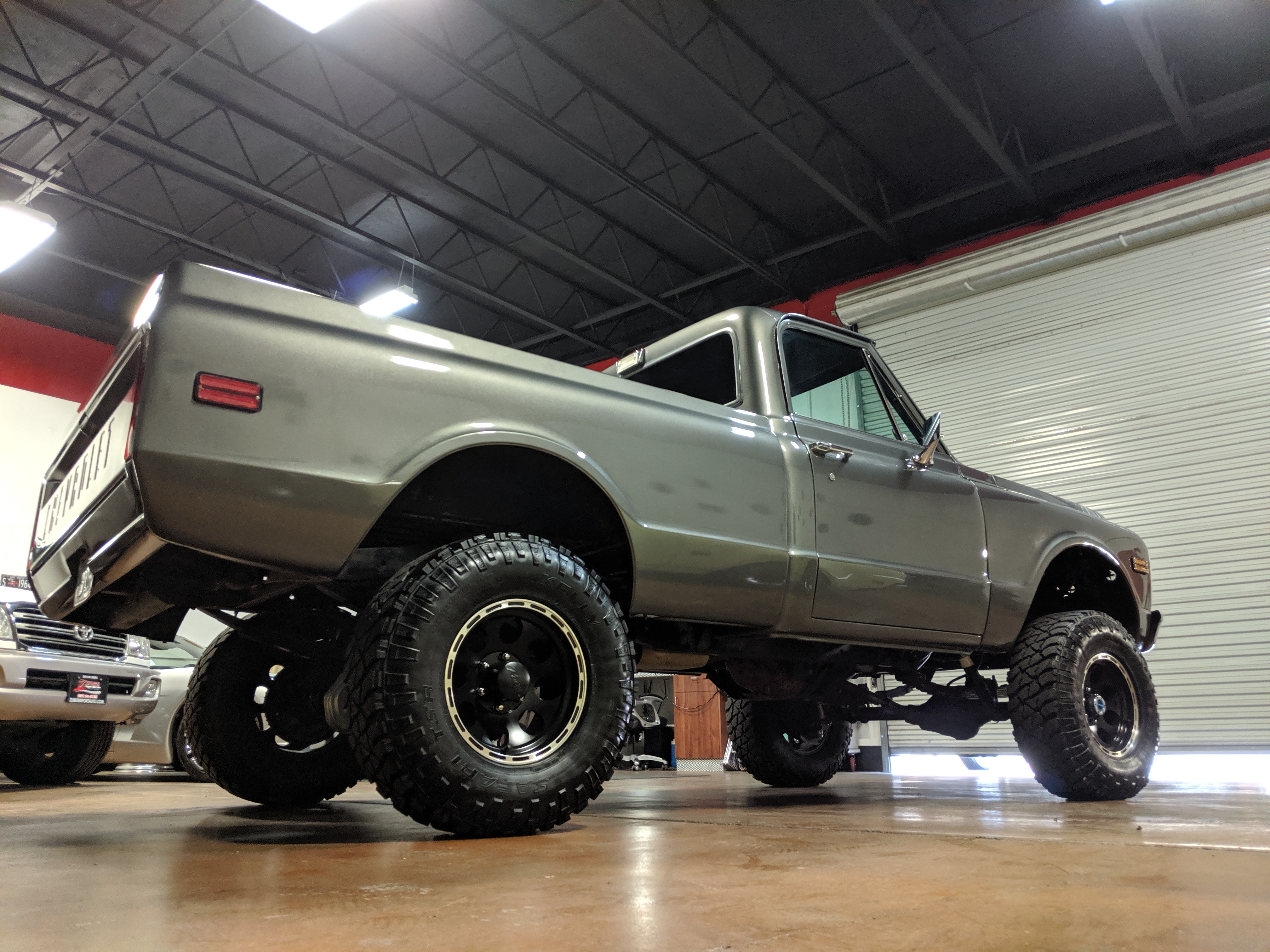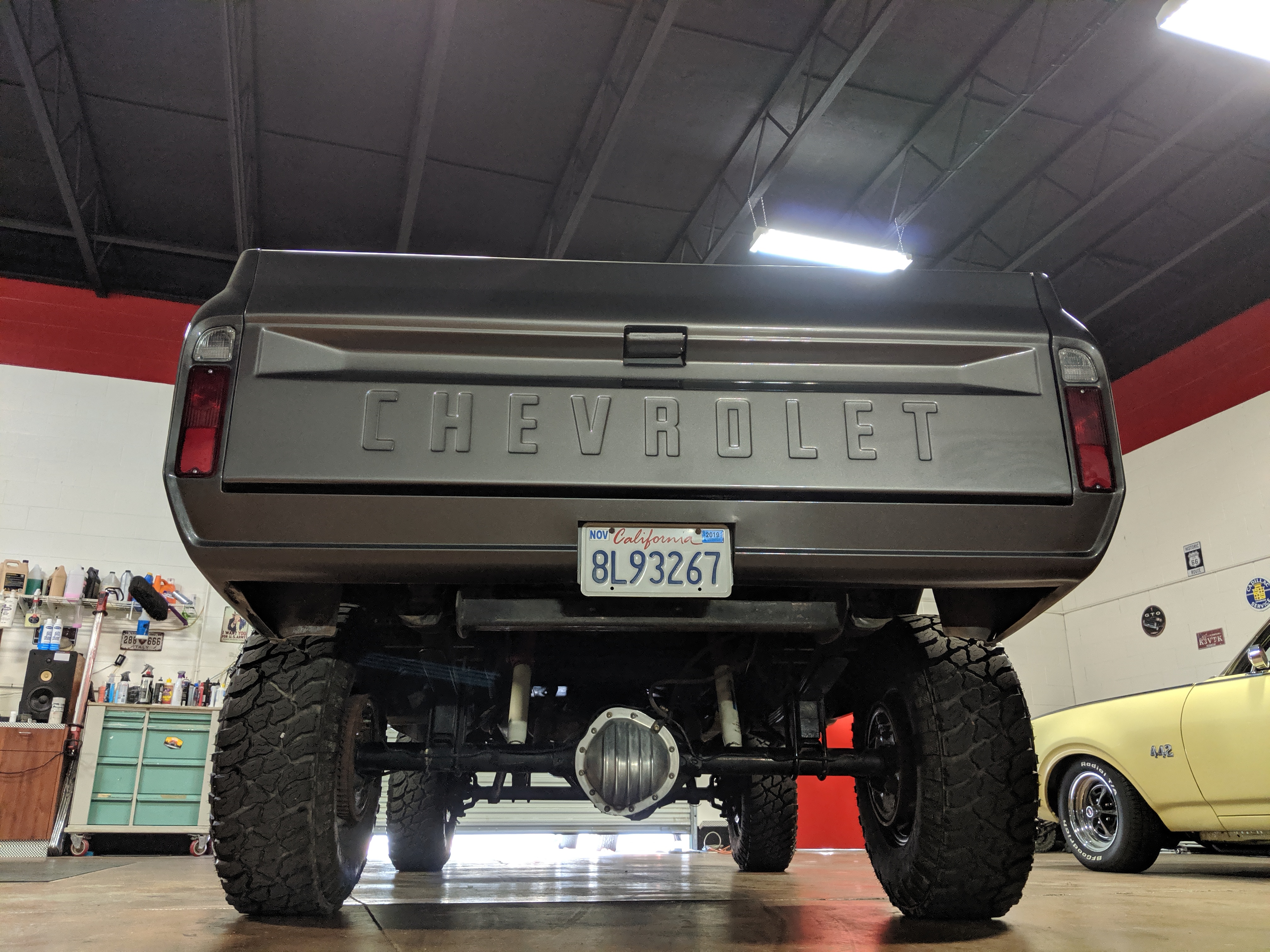 If you're looking for a K-10 short bed look no further. We've looked all over the Country at what is on the market and none look as good as this one does. They are also half way across the country as there are few, if any for sale in California or the west coast for that matter. We ship our vehicles all over the Country so if you need a quote contact us today and we'll help you out.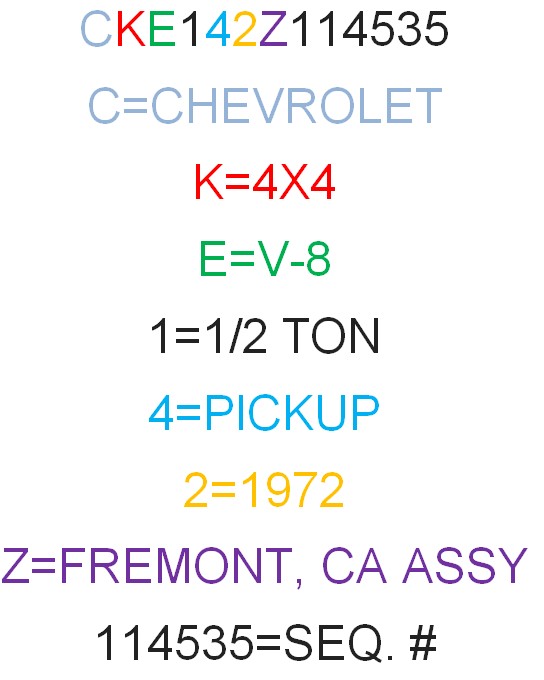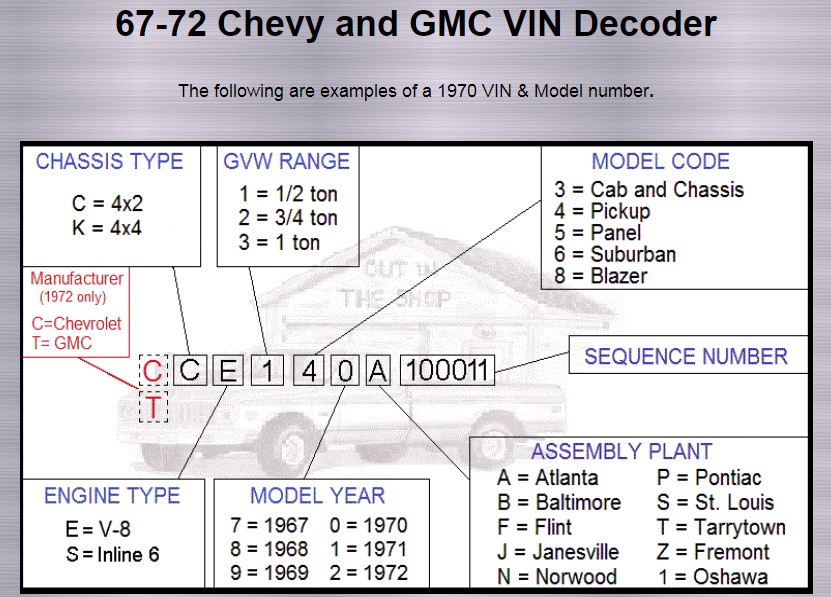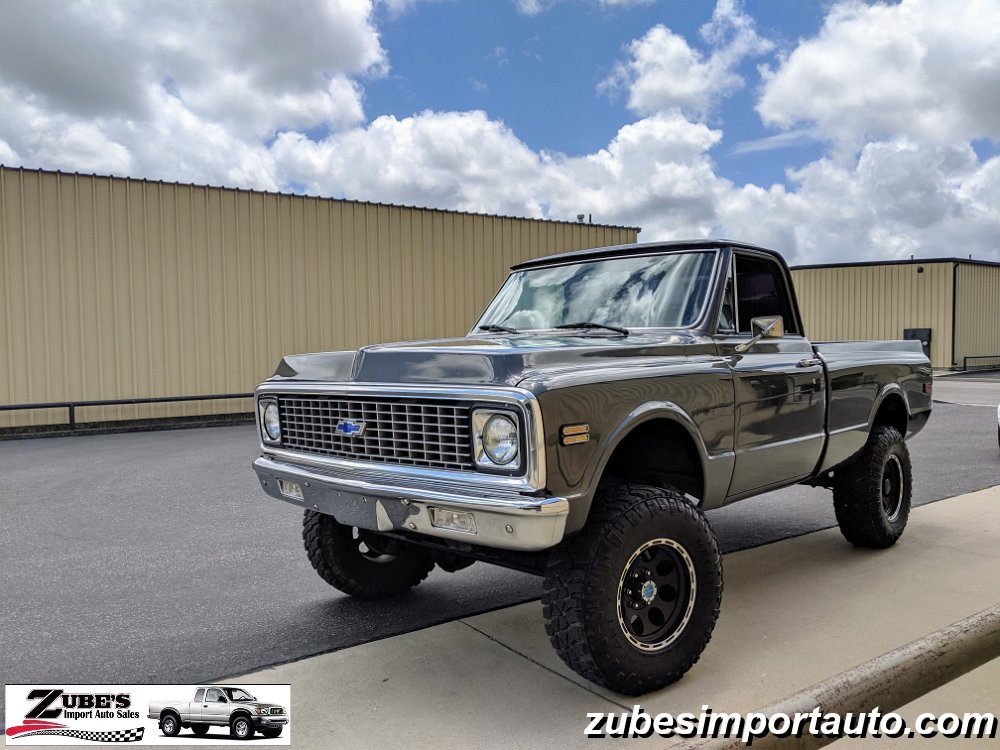 ***PRICED IN LINE WITH THE FEW '72 K10'S AVAILABLE IN THE COUNTRY****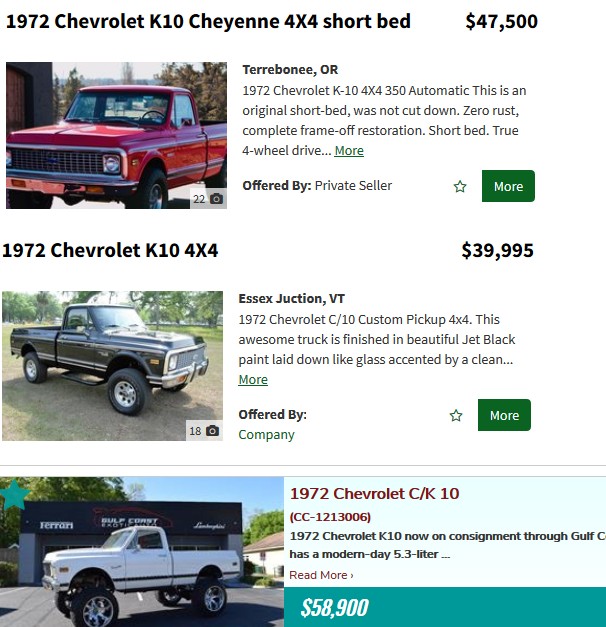 4-BBL CARB
ALLOY WHEELS
AM/FM/CD PLAYER
AUTOMATIC
FRONT DISC BRAKES
MANUAL LOCKING HUBS
MANUAL WINDOWS
POWER STEERING
REAR DRUM BRAKES
V8
HISTORY OF THE CHEVY C/K TRUCKS (1960-72)
The first generation of Chevy C/K trucks began in 1960 and ran through 1966. A "C" truck designated 2-wheel drive, rear of course, while "K" designated a 4-wheel drive. Two body styles were available: the Chevy "Fleetside" (known as the "Wideside" in GMC models) which offered a smooth panel down each side of the bed; and the Chevy "Stepside" (which GMC labeled "Fenderside") which provided a contoured panel outlining the rear wheel-wells and a "step" behind the driver and passenger side doors. These trucks rode very much like a long-wheelbase automobile due to the drop-center ladder frame and low-profile seats. There was no climbing up into the cab of one of these trucks unless you were under five feet tall.
The 70's model was still based on the Chevy Nova but 2inches longer. It got a longer, wider F-body and maintained its unibody structure, front subframe, A-arm front suspension and leaf springs on the rear axle - similar to the previous generation - but with lots of cosmetic upgrades and increased noise reduction. It's proposed 454 engine never came to fruition so only the 350 and 396 engines were available. Oddly enough, 396 was actually a label for a 402 CID engine. Chevy kept the 396 label due to its widely recognized name.
C/K trucks were available in half-ton (C10 and K10), three-quarter ton (C20 and K20), and one-ton models (C30) with either long or short-beds. Trim line offerings came in base and custom. Under the hood on Chevy models, you would find the 135 horsepower 236 inch V6; 150 horsepower 261 inch straight-6; or the 180 horsepower 283 inch V8. The base engine for the GMC trucks was the 305 inch V6.
1963 Chevy trucks received the all new coil spring front suspension. Engines for this model year included a 140 horsepower 230 inch L6 (otherwise known as a straight-6) and the optional 165 horsepower 292 inch L6.
1964 Chevy trucks revealed the elimination of the wraparound windshield and the addition of air conditioning. To this, on 1965 Chevy trucks, a 220 horsepower 327 inch V8 engine was available. The second generation of Chevy C/K trucks began in 1967 and ran until 1972 with the nickname "Action Line." The half-ton (10) and three-quarter ton (20) models were tricked out with the new coil-spring trailing arm suspension which provided a far superior ride in comparison to the traditional leaf springs. All four-wheel drive models were equipped with leaf springs on both the front and rear axles. The standard drivetrain was the 3-speed manual tranny with two available engine options: The 250 inch straight 6 and the 283 cubic inch V8. Optional transmissions available were the 4-speed manual transmission; Powerglide; and Turbo-Hydramatic 350 or 400. Optional engines were the 292 inch and 327 inch V8
The 283 inch V8 was replaced on the 1968 Chevy trucks with the 307 cubic inch with 310 horsepower and the 396 cubic inch V8. For the 50 year Truck Anniversary, Chevy offered a white-gold-white paint scheme: white cab roof, gold body, and white rocker panels. The Longhorn model debuted this same year on the 2-wheel drive three-quarter ton trucks with a 133 inch wheelbase. In 1961, Chevy upsized the 327 cubic inch engine to 350 cubic inch displacement that netted 195 to 200 horsepower. 1961 Chevy trucks received new grille work, upright hood design while the K5 Blazer, a short wheelbase SUV was introduced this year. Few changes were made to the 1971 Chevy trucks. These models got the "egg crate" grille, the new Cheyenne trim package (known as Sierra on GMC models), and AM/FM radios. Front brakes on light duty trucks were switched from drums to disks. There were very minor changes to the 1972 Chevy trucks.
| | |
| --- | --- |
| Year: | 1972 |
| Make: | Chevrolet |
| Model: | K10 Short Bed |
| Body Style: | Pickup |
| Trim: | K10 1/2 Ton |
| Mileage: | 96,261 |
| Transmission: | TH-350 Automatic 4WD |
| Condition: | Excellent |
| Location: | San Luis Obispo |
| Price: | $0 |
| Drivetrain: | 4WD |
| Engine: | 350 CI V8 |
| Exterior Color: | Charcoal Gray |
| Interior Color: | Black |
| MPG: | n/a City / n/a Highway |
| VIN Number: | CKE142Z114535 |
Financing Calculator
| | |
| --- | --- |
| Cost of Vehicle ($): | |
| Down Payment ($): | |
| Annual Interest Rate (%): | |
| Term of Loan in Years: | |
Calculate My Payment
| | |
| --- | --- |
| NUMBER OF PAYMENTS: | 60 |
| PAYMENT AMOUNT: | $ 89.11 |
Recent Vehicles
Browse through the vast selection of vehicles that have recently been added to our inventory.