1969 Ford Bronco 4×4 302 CI V8 4-Speed Manual
Fully Built Rock Crawler With 37's, 31-Spline Chromoly, 4.88's ARB Air Locker/ Detroit Locker & More!
Bad Ass 1969 Ford Bronco 4×4 built to take on any mountain, trail, or obstacle you put in front of it. You can take this Bronco to the King of Hammers or cruise around town and look good doing it! This Bronco turns heads everywhere it goes and for good reason- it's a Beast! Desert Khaki exterior with Rhinoliner and fully Rhinolined interior with Corbeau Bucket Seats with 5-point harnesses. Sitting on 37″ Goodyear Wrangler MTR tires on Trail Ready Bead Lock wheels its impossible to miss this rolling down the road. If you're looking for a sick Bronco that is truly OFF-ROAD READY look no further. Full build sheet below.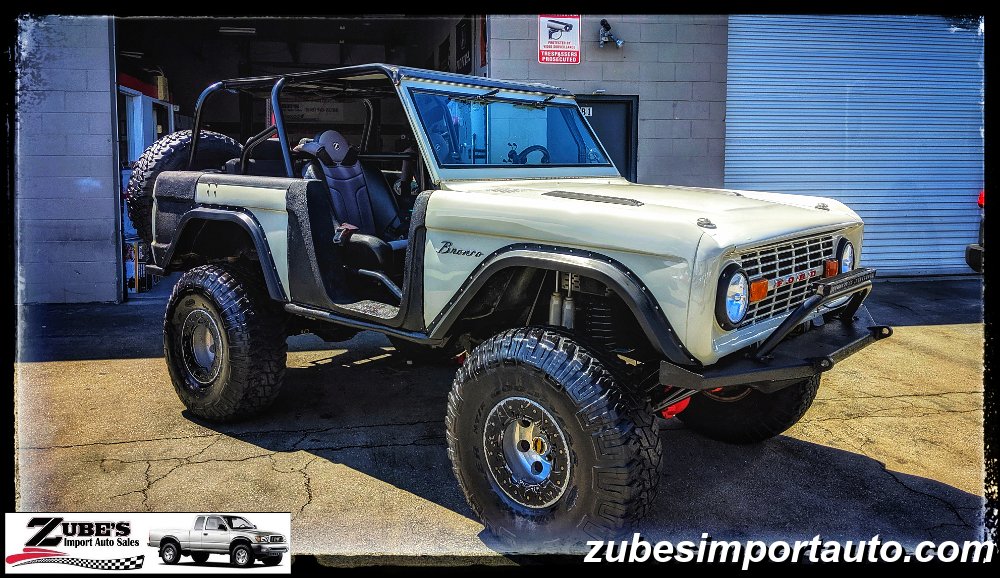 FULLY BUILT & READY FOR ANY TERRAIN:
'69 Bronco with factory 302 CI V8
Roadster Style (No doors, no top)
Rock Crawler Ready with Rock Sliders and rear quarter body armor
Edelbrock Intake Manifold
QuadraJet 4 BBL carburetor
Stock Exhaust Manifold to reduce heat output
MeanGreen High Output Alternator
Blue Top & Red Top Optima Batteries
Good Samaritan Battery Switch
Blade Style Fuse Box Under Hood
ARB Air Compressor for Front Axle Locker
Power Steering with Hydro Assist
Power Brakes -Front Disc
4 Core Radiator
Vented Wheel Wells
Vented Hood for better engine cooling
5 Inch Fan Tube To Reduce Chance of Vapor Lock
Winch Capable Rock Solid Front Bumper With Light Bar (Baja Design)
Wiring In Place For Winch
H-4 Headlights
Dana 44 Front Axle Housing
ARB Air Locker
31 Spline Chromoly RCV Front Axles
Large Front Disc Brakes Due to RCV Axles
Reed Knuckles
Red ARB Pumpkin Cover
NP 435- 4 Speed Transmission with Granny Gears in 1st & Reverse
Twin Stick Dana 20 Transfer Case
Reinforced 9 Inch Axle Housing
31 Spline Chromoly Rear Axles
Rear Drum Brakes
Detroit Locker
37×12.5R15 Goodyear Wrangler MTR tires with Kevlar
Trail Ready BeadLock Rims with Monster Valves
Spare tire is NEW
Billet Wheel Spacers
Corbeau Bucket Seats with 5 Point Harness SeatBelts
Large Folding Rear Seat with headrest and three sets of seatbelts
8 Point Family Roll Cage
Rhino Lined Interior
Tilt Column With Grant Steering Wheel
Bimini Top
ARB Switches For Compressor
Rock Solid Style Rear Bumper With High Lift Jack
Jerry Can/Cooler Mount (Jerry Can Not Included)
23 Gallon Rear Gas Tank. Tuck Away Gas Cap
5 Inch Progressive Suspension Lift with 2 Inch Body Lift
High Cut Wheel Wells
Shock Hoops Front & Rear
Heavy Duty Tie Rod Drag Link Set (3 Way Adjustable)
Drop Pitman Arm
New Floor Pans Welded In & Rhino Lined
4.88 Gears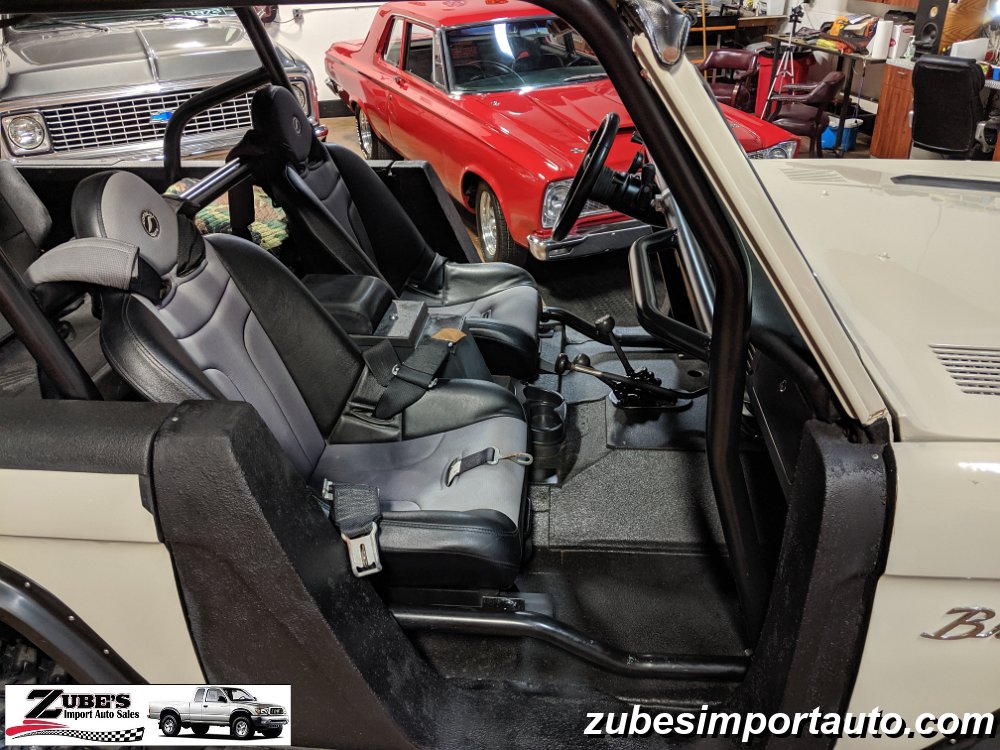 For you off-road enthusiasts and Bronco fanatics this is one you can appreciate. Lots of high quality parts especially with the 31 Spline Chromoly Axles, ARB air locker, detroit locker and reed knuckles. Top of the line bulletproof parts that won't let you down when you're on the trail. Fully caged with 5-point harness seat belts make sure you're fully safe. This Bronco is built like a tank and has all the running gear to back it up.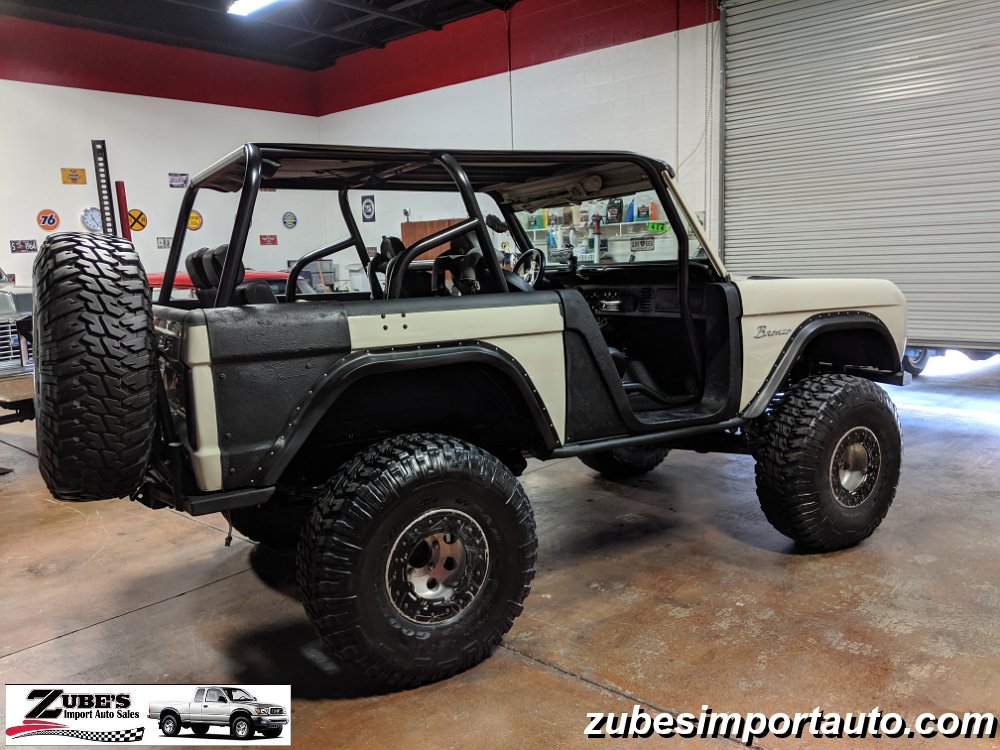 FINANCING & WORLDWIDE TRANSPORT AVAILABLE!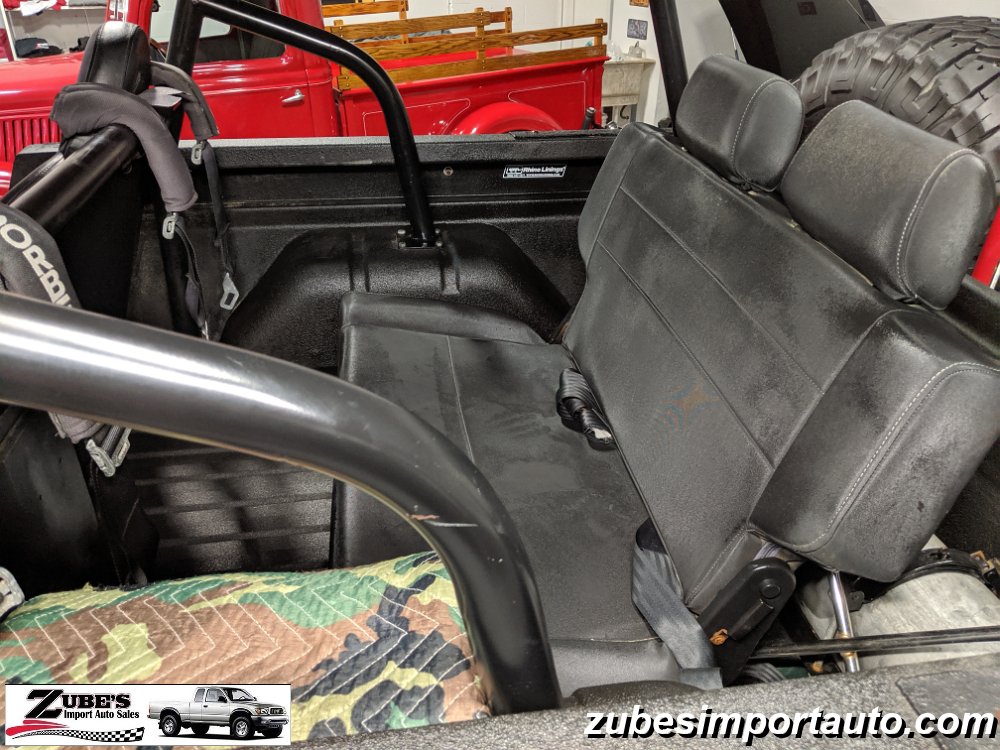 SLO'S BEST CLASSICS!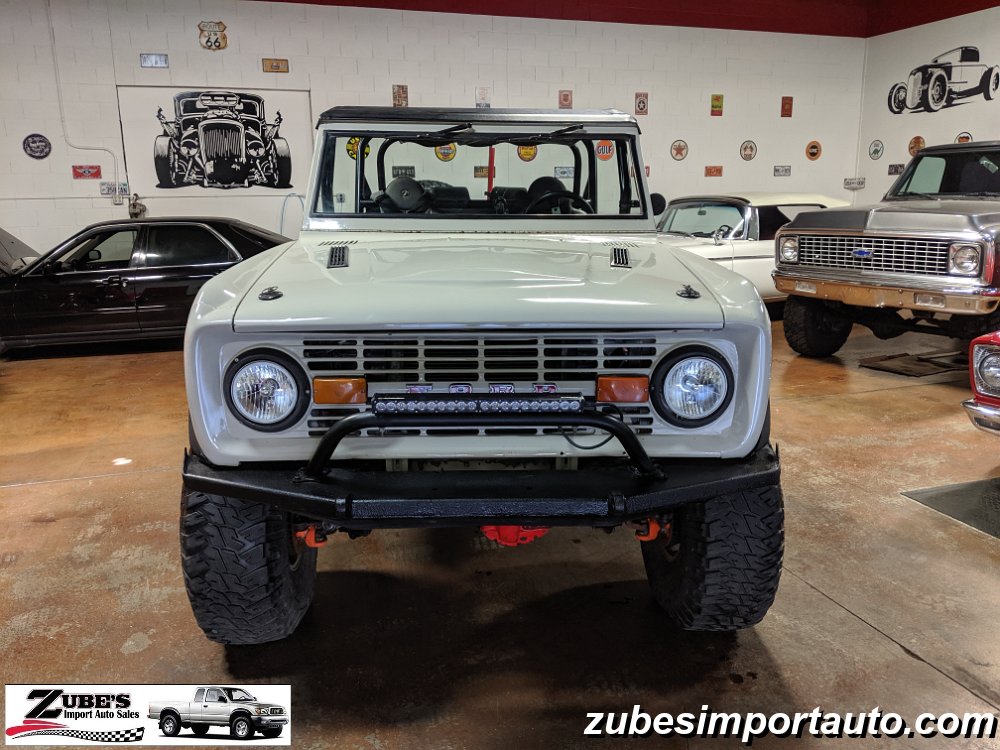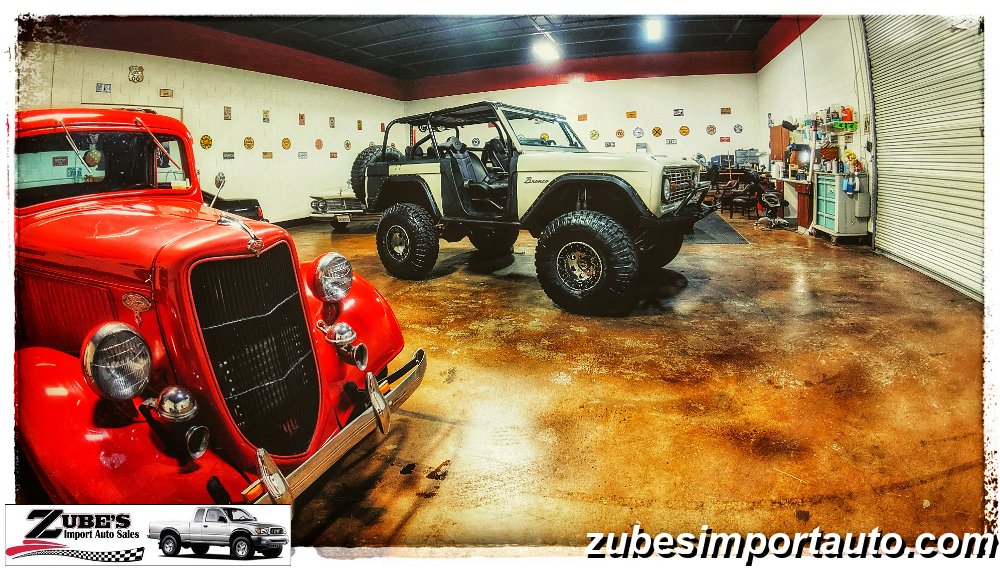 Buying yourself an Early Bronco is about the best thing that you can do. It will give you years of enjoyment, an excellent opportunity to learn, and a means to meet quality people and forge lasting friendships with Early Bronco lovers all over the world. This article is intended to address some of the common things to look for when buying an Early Bronco so that you will have some knowledge as to exactly what you are getting into.
The History: (from Bronco.com / Bronco Driver.com)
The Ford Bronco was introduced to the public in August of 1965 to compete against Jeep's CJ-5 and International Harvester's Scout in the burgeoning recreational four wheel drive vehicle market. The first Broncos were very spartan without options such as power steering and an automatic transmission. The first models were available only with a 105 hp 170 cid six cylinder derived from Ford's Falcon lineup. The only available transmission was Ford's 3.03 three speed manual with a column mounted shifter. Transmission ratios behind the six cylinder were: 3.41:1 first, 1.86:1 second, and 1:1 third. When the 289 V8 option was introduced in March 1966, the three speed manual behind it had ratios of: 2.99:1 first, 1.46 second, and 1:1 third. The transfer case was a Bronco specific Dana 20 with a low range ratio of 2.46:1. Unique to the models was a tall shifter with a shift pattern matching that of the T-handle shifter, but with a J- handle style ball mounted on top. Most '66s also had rear shock absorbers that angled forward in front of the axle with stud mounts at the top instead of the later rear-canted eye mount shocks. The Bronco, with a 92 inch wheelbase was offered in wagon, half cab, and roadster configurations. The roadster option was not very popular and was discontinued after 1968. Standard brakes were 11 x 2″ front drums and 10 x 2.5″ drums on the rear on the small bearing (2780 lb.) axle and 11 x 1.75″ drums on the large bearing(3300 lb.) axle. All Broncos employed a Ford 9″ rear axle and until 1971, a Dana 30 front axle rated at 2,500 lb. Axle ratios were 3.50:1, 4.11:1 and 4.57:1(6 cyl. only). The standard gas tank held 14.5 gallon with an optional 11.5 gallon second tank available. Options for '66(including dealer installed accessories) included: Warn free wheeling hubs, snow plow kits, winches, tachometers, Air Lift front auxiliary springs, trailer hitches, tow hooks, etc. Most of the options and many others were included through the Bronco's twelve year run. Production for the 1966 year totaled 18,200 units.
The Sport Package was introduced in 1967. This package included bright finished horn ring, windshield drip, head and tail lamp bezels, side window frames, instrument panel trim and tailgate handle, cigar lighter, chrome-plated grille, bumpers and front guards, red die cast F-O-R-D letters appliquéd to the grille, and 15″ wheel covers. A bright trimmed hardboard headlining and vinyl floor mat were also added to the Sport Wagon. A dual master cylinder with a split hydraulic system and self-adjusting brakes was also new. Back-up lights were now standard and an 11.5 gallon auxiliary fuel tank option was available. 16,100 Broncos were built in 1967.
Bumpers with curved ends and side marker reflectors immediately distinguished the 1968 models from their predecessors. Locking front hubs, new inside door handles and "soft" window crank knobs were other new options. This was also the last year for the 289 V8 and the roadster option. 1968 production was 15,700 trucks.
1969 was a big year for the Bronco with production jumping to 19,200 units. The 302 V8 replaced the 289 V8. Two speed electric windshield wipers replaced the vacuum units several months into the production run. Amber lenses parking lights replaced the previously used white lens. The Sport models now had aluminum door panel trim, pleated parchment interior, and a rear floor mat when the rear seat was ordered. Some sources say the removable top feature was discontinued, although we enthusiasts know better! The steering stabilizer became a standard feature along with improvements in NVH.
Repositioned side marker lights and reflectors were the most obvious change to the 1970 Broncos. The Sport Bronco became a model rather than an option package. 1970 also saw the first application of evaporative emissions recovery systems with gas tanks on models so equipped losing capacity to 12.7 gallons and 10.3 gallons in the main and auxiliary tanks respectively. 18,500 Broncos were built in 1970.
The stout Dana 44 became the standard Bronco front axle early in the 1971 production year, replacing the weaker Dana 30. New options included a remote control left hand outside mirror, a new headliner for the pickup, and a heavy duty radiator. The special edition Baja Bronco by Bill Stroppe and Associates was also introduced this year. Stroppe took a Bronco wagon and added a roll bar, dual shocks front and rear, Gates Commando tires, fender flares, larger tires, rubberized steering wheel, bumper braces, power steering, automatic transmission, special nameplate, and red, white, blue, and black special order paint. A total of approximately 650 Baja Broncos were produced between 1971-1974. 18,700 Broncos rolled off the assembly line in 1971.
1972 was the last full year for the T-handle transfer case shifter and the '302' emblem disappeared from the front fenders of V8 Broncos. This was also the last year for the beloved half cab. The Ranger trim package was introduced at mid-year and consisted of new stripes, argent grille, color-keyed pile front and rear carpet, deluxe wheel covers, wood-grained door trim panels, 'Ranger' tire cover, cloth-inserted bucket seats and a fiberboard headliner. Gas tank size continued to shrink with the auxiliary tank now holding 7.5 gallons. 1972 Bronco production totaled 18,300.
When the Bronco was introduced in the mid-sixties, its main competition was the Scout 800 and the Jeep CJ-5, both spartan vehicles to say the least. By the early seventies, with the introduction of the Chevrolet Blazer and the Scout II, it became painfully obvious that the Bronco was beginning to fall behind the competition. In 1973, Ford finally answered the calls for modernization by introducing the C-4 automatic transmission option and optional power steering. The C-4 had ratios of 2.46:1 low, 1.46 second, and 1:1 third. The power steering box was a Saginaw unit with 5.3 turns lock-to-lock. The base engine was bumped from 170 to 200 cubic inches. The J-handle transfer case shifter was introduced shortly after the model year began and the low range transfer case ratio became 2.34:1. These changes helped push early Bronco sales to their second best year ever: 26,300.
By 1974, the 200 c.i.d. six cylinder and 4.11 axles were no longer available in California. A new emissions package was also introduced for California Broncos. Some subtle changes were made mid-year to the J-handle shifter mechanism in response to complaints of tough shifting. The transmission selector was lighted starting in '74. 21,400 Broncos rolled off the assembly line in 1974.
Unleaded fuel engines and catalytic converters were the new items added to the Bronco in 1975 in the face of increasingly strict emissions requirements. Some sources also say that the cam timing on '75 engines was retarded to help with emissions as well. Sport and Ranger models received the F-Series steering wheel for the year. GVWs and ride heights were revised. Among the new options was an 800 watt engine block heater for folks in cold climates. Bronco production shrunk to its lowest ever in 1975 with just 13,200 trucks produced.
The bicentennial year brought several key improvements to Ford's sport utility, most notably the addition of long overdue power assisted front disc brakes. The rear brakes were upgraded to 11 x 2.25″ drums. The steering box ratio was shortened to 3.8 turns lock-to-lock. The dreaded Y steering linkage was also introduced in 1976 along with a front anti-sway bar. A Special Decor Group comprised of a flat black-finished grille, tape stripe, bright windshield molding, and side window frames and wheel covers was introduced mid-year. 14,500 Broncos rolled off the line in 1976.
Everyone knew the early Bronco's days were numbered in the face of stiff competition from the Blazer and Chrysler Corporation's Ramcharger and Trail Duster trucks. The 1977 Bronco in many ways represented the best of the breed. There were very few changes from the previous year; the most important one for enthusiasts being the introduction of the heavy duty 9″ rear end housing. The most obvious exterior change was the introduction of gas tank doors replacing the previous exterior mounted caps, in line with the introduction of doors on the F-Series and Econoline vans. The rear marker lights were mounted vertically to give clearance for the doors. Some previously standard items, such as a passenger's side seat and padded instrument panel, were made optional this year. Unique to the '77s is a 14.4 plastic gas tank and an 8 gallon auxiliary tank. In its final year of production, 30,700 Broncos rolled off the assembly line before the large Bronco took over in 1978.
The early Bronco today enjoys a cult-like status among four wheel drive and collector car enthusiasts alike. Its simple, sturdy construction, V8 power, and excellent maneuverability ensure good off road performance and provide a platform on which many modifications can easily be made. The popularity of the classic 1966-1977 Ford Bronco will no doubt continue to soar in the years to come.
There were four trim packages for the Bronco. There was the base Bronco, Bronco Explorer, Bronco Sport, and Bronco Ranger.
| | |
| --- | --- |
| Year: | 1969 |
| Make: | FORD |
| Model: | BRONCO |
| Body Style: | SUV |
| Trim: | Roadster |
| Mileage: | 23,799 |
| Transmission: | NP 435 4-Speed Manual |
| Location: | San Luis Obispo |
| Price: | $0 |
| Engine: | 302 CI V8 |
| Exterior Color: | Desert Khaki |
| Interior Color: | Black |
| MPG: | City / Highway |
| VIN Number: | U15GLE17520 |
Financing Calculator
| | |
| --- | --- |
| Cost of Vehicle ($): | |
| Down Payment ($): | |
| Annual Interest Rate (%): | |
| Term of Loan in Years: | |
Calculate My Payment
| | |
| --- | --- |
| NUMBER OF PAYMENTS: | 60 |
| PAYMENT AMOUNT: | $ 89.11 |
Recent Vehicles
Browse through the vast selection of vehicles that have recently been added to our inventory.